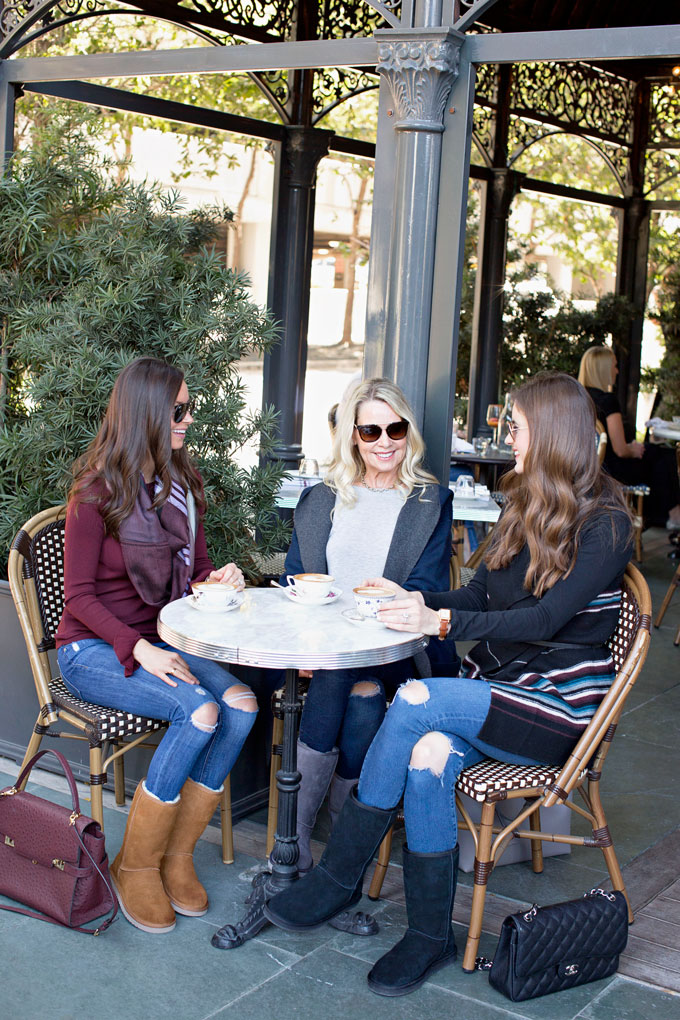 Dallas weather has finally started to cool down. We were honestly wondering if it was ever going to happen! One of our favorite weekend activities is getting together for coffee (or wine ;)) and catching-up. Since Katherine works full-time, it's something we look forward to doing without having to be on a time crunch. Mercat Bistro is a charming Parisian-inspired restaurant in the Harwood District of Dallas. You feel just like you are sitting in a Paris café, sipping coffee and enjoying croissants. This particular Saturday morning was cool and crisp, so we could enjoy a latte and get bundled up to sit outside. When we finally do get the chance to bundle up, the first thing we can't wait to put on are our Koolaburra boots. After all summer without them, they feel so cozy and comfy!
Koolaburra by UGG is the little sister to the classic UGG brand, with the same quality and casual chic styling. The Classic Tall boots are just $90 and come in five different colors! We also think the Victoria Short boot is adorable (think bows and sheepskin) and if you like a wedge boot, the Classic Slim Tall is perfect for you. All boot styles are priced at or below $100, which makes them a perfect gift option. Koolaburra also offers free shipping and free returns- one of our online shopping musts. Check out their slippers, too. They are darling!
on katherine: sweater|scarf|jeans|sunglasses (black)|handbag-c/o (similar 30% off)|boots (in chestnut)-c/o
on jean: sweater|coatigan|jeans|watch|watch strap|sunglasses|tote bag|boots (in rabbit)-c/o
on stia: sweater|vest|jeans|handbag|sunglasses|boots (in black)-c/o
Shop Koolaburra by UGG:

Cheers,
Stia, Jean and Katherine
Thank you Koolaburra for partnering with us on this post!
Photography: Megan Weaver