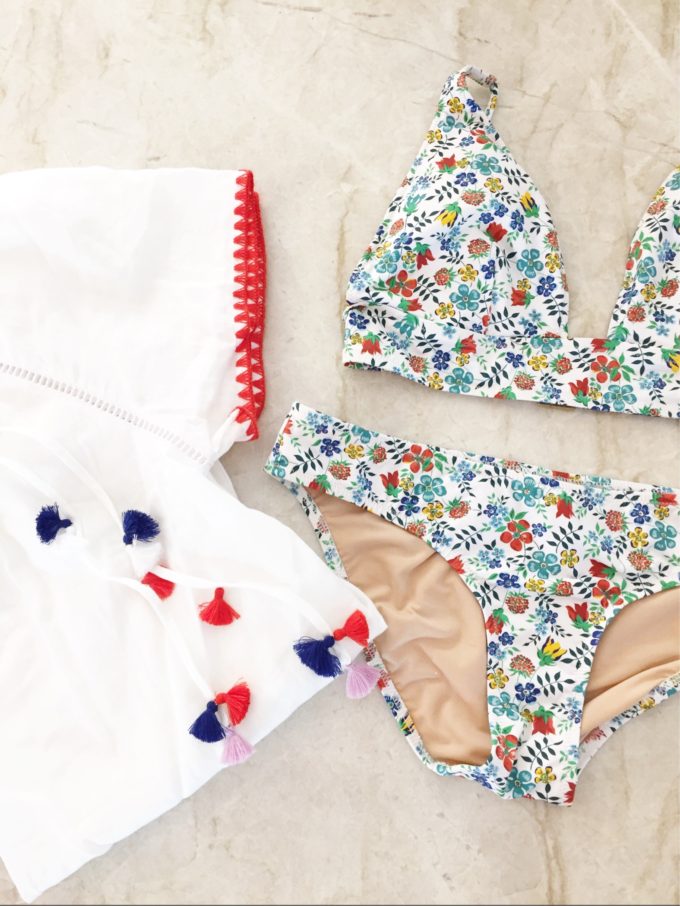 |tassel cover-uptassel cover-up|floral bikinifloral bikini|
This weekend, we are headed to the beach with 11 of our couple friends and everyone's kids (14 to be exact!). We are all staying in the same house (thank goodness for separate bathrooms) and we are so excited to spend a crazy, chaotic and fun weekend with some of our closest friends. We've been looking forward to this trip for obvious reasons, but I am so excited to have had a reason to do some swimwear/beachwear shopping early this season!
One-Piece Swimwear:
Stia won't be wearing any one-pieces this year, but Jean and Katherine have a few on their wishlist for an upcoming trip in May! This cutout one-piece is adorable, can't get enough palm print and pink and white stripes for under $100 anyone?!


Bikinis:
A bikini is probably the swimsuit we choose to wear the most often, but who can blame us? We are loving all the ruffle detailing, high waisted bottoms and unique tops. Stia just picked up this navy gingham swim suit for this weekend, we definitely need this white embroidered bikini and loving this black off the shoulder bikini!


Cover-Ups:
What's better than throwing on something over your swimsuit that's just as cute as your swimsuit beneath it? Our favorite cover-ups this season? A romper works great as a coverup and this one with scalloped detail is the perfect choice, the back of this coverup is just the cutest and this white maxi cover-up was on our wishlist forever- we just picked it up!

Beach Totes:
The chicest way to store your sunscreen, book, towel and sunnies. This beach tote is perfect for the color lover, a striped beach bag that's under $100 and we picked up this neutral tote bag to go with everything this summer.


Cheers,
Stia, Jean and Katherine