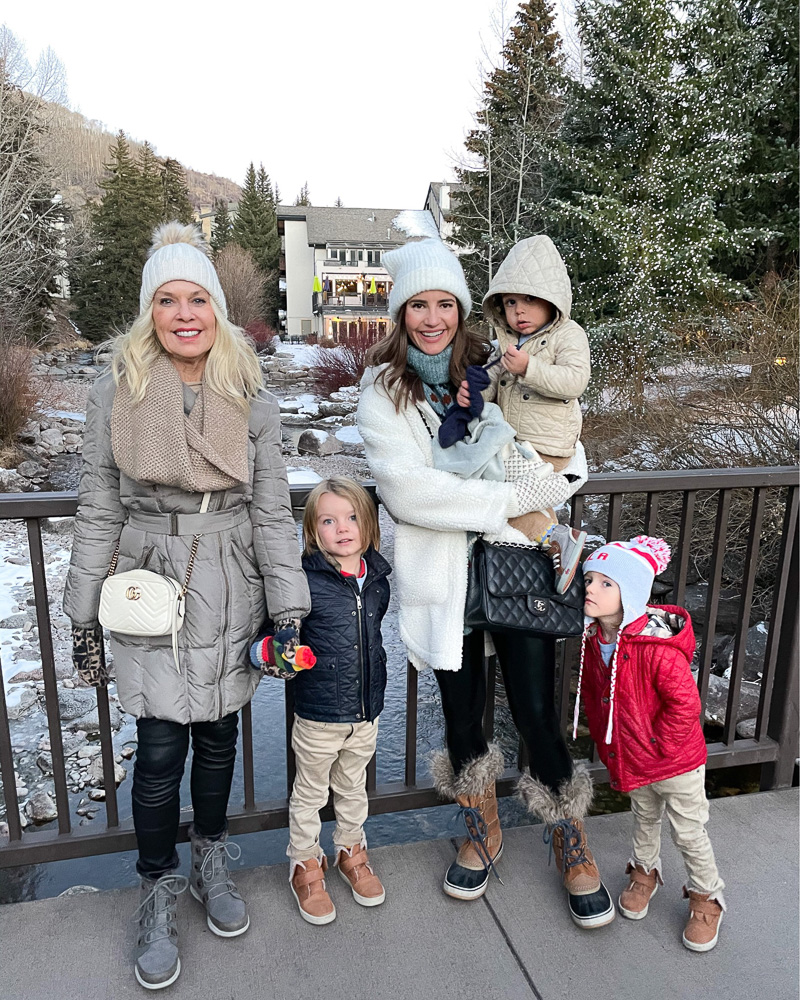 jackets // jeans // hats // boots // jacket // puffer coat // grey snow boots // brown snow boots
The Saturday after Thanksgiving we packed up and took the boys to Vail, Colorado to go skiing. This was our second time taking the boys skiing after Thanksgiving and it was even more fun! The boys loved the snow and Vail is such a magical place to be during the holidays. We were so happy that one day we were there, it snowed all day and into the night. Because of Covid, we did a few things differently than we did last year, but it didn't impact our fun at all. Here's an updated list of where to stay, things to do and where to eat!
Stay
Without a doubt, stay at Four Seasons Vail. The service at Four Seaons is always amazing, and they really have gone all out to keep their guests safe during COVID. There is only one entrance to go in and out, temperature checks at the door, hand sanitizer is everywhere, room service is left at your door (unless you request that they bring it in) and socially distant tables at Remedy. They truly have gone above and beyond. The staff is doing everything they can to insure that your stay is seamless. ​​​​​​​​​​​​​​If you plan to ski, the hotel makes it so easy. From in house Gorsuch ski rentals, to the ski concierge taking your skis to the gondola for you, and providing hot chocolate and slippers when you return from skiing. Four Seasons Vail is simply the best!
Newly renovated rooms: The new rooms at Four Seasons Vail are beautiful. Think modern, but still cozy ski resort. Everything is automated, including the drapes and lights from your bed. Every room has a fireplace and huge soaking tub to relax in.
Heated pool: One of the boys' new favorite activities was swimming in the heated pool and hot tubs in the middle of the twinkle lights and snow covered pool area.
Kids room: The kids room is a play room that you can rent hourly during COVID as a play space for the younger ones.
House car: While we were staying, there were two Mercedes-Benz SUVs available to guests on a first come basis. We used them twice to get to a nearby sledding hill. So convenient!
Four Seasons App: We used the app for SO much! There is an option to chat with FS Vail (or whichever location you are staying). We used it for lunch recommendations, dinner reservations, questions about where to go sledding, and to order room service.
Ski concierge: Although the ski concierge looks a bit different this year, it is still wonderful benefit of staying at Four Seasons Vail. The hotel has designated one of the ballrooms as the ski concierge headquarters. It's styled very cozy and comfy, with hot chocolate, coffee and soup available. The ski concierge will transport your skis to wherever you plan to ski that day and be waiting to take them back when you're finished skiing. Back at the ski con there are warm beverages and cookies, and slippers to slip into after removing ski boots. They've really thought of everything to make your ski day as comfortable as possible.
Eat
Room service: We ordered room service every morning for breakfast. It was the perfect way to start our day! We ordered breakfast and coffee as soon as the boys woke up and watched cartoons while we waited for it. The boys loved the buttermilk pancakes topped with powdered sugar. We loved the pots of coffee, pastries and breakfast burritos. Such a fun memory!
Back of House Burger Bar: A true Four Seasons Vail hidden secret. It's usually served in the kitchen, which isn't available at this time, but we did it as a private dining experience and it was just as fun! We all loved the custom milkshake bar that was set up for us, and the burgers were amazing.
Remedy: This is the bar/restaurant at Four Seasons Vail. The views, looking up to the mountain and over the pool, are stunning. We ate lunch here a few times and most evenings began here with a cocktail; the -V- was a favorite. On our last day we had the signature Haute Chocolate service. So special, this is a must!
Mountain Standard: In Vail Village, a short walk from the hotel. We highly recommend for lunch or dinner!
Pazzo's Vail: Delicious pizza and a good Italian salad. We usually order in from here after a day of skiing.
El Segundo: This was a first time spot for us, recommended by the concierge. We had lunch here one day while we were skiing and it did not disappoint. The nachos are huge and delicious, and they have such great tacos and margs. It's an easy and quick walk from Gondola One.
La Nonna: We first tried La Nonna last year and it was on our list of must go again spots. It's a tiny Italian restaurant that is so cozy and the food is amazing. The chef came out to say hello, and took the boys back to the kitchen to show them where their dinner was made. Highly recommend!
A few places we've been in the past and recommend: Yeti's Grind for coffee and breakfast burritos, and Sweet Basil is a wonderful lunch or dinner option. We have yet to make it to Matsuhisa– hopefully next time!
Things to Do​​​​​​​
Ski: This one is obvious, but Vail is such a great place to ski and learn to ski. We were so happy with Vail Ski School last year, but going in we knew this year would be different because of COVID. When we found out that the boys could do 1-hour private lessons, we were thrilled. We signed them up to have private lessons two days in a row. They learned SO much from each having one on one time with an instructor and they loved it. William loved skiing last year, but Henry did not. This year was completely different. Henry and William both loved it and we really give credit to the instructors. They had so fun with them and the instructors were so encouraging to the boys. They skied the entire hour both days and we are so proud of them! Vail Ski School is so helpful. We recommend giving them a call to see what options are available based on ages. For adults, this season you must have an Epic Pass pre-purchased in order to ski, and you must make reservations in advance for the days you plan to ski. Because of Covid precautions, there is a limit to the amount of skiers that have access to the mountain each day.
Sledding: This was our first time to take the boys sledding and we had a blast. We took the Four Seasons house car to Big Horn Park in East Vail to go sledding and I think it was the highlight of the trip for the boys. The hill was the perfect size and they did it over and over and over!
Pirate Ship Park: This is such a fun playground. It's located right next to Gondola One. Ever since the first time we went, the boys have not stopped talking about it. They had so much fun this year, too!
Walk around Vail Village: It's the most magical little village at Christmas. Twinkle lights are everywhere! There are so many cute boutiques, a candy store and toy store that are mandatory stops for us. And shopping in Gorsuch is a must. In the village masks are mandatory, including outdoors.
There is so much more to do… ice skating in the middle of Vail Village, bowling, Spa at the Four Seasons, and all the winter sports you can imagine!
We can't really express to you how much spending the early holidays in Vail means to us. It's been the best way for our family to fully embrace the season, spend time outdoors in a different environment and learn new skills, all while enjoying world class service, food and drink. It's the best!
jackets // jeans // hats // shoes // jacket // puffer coat // sneakers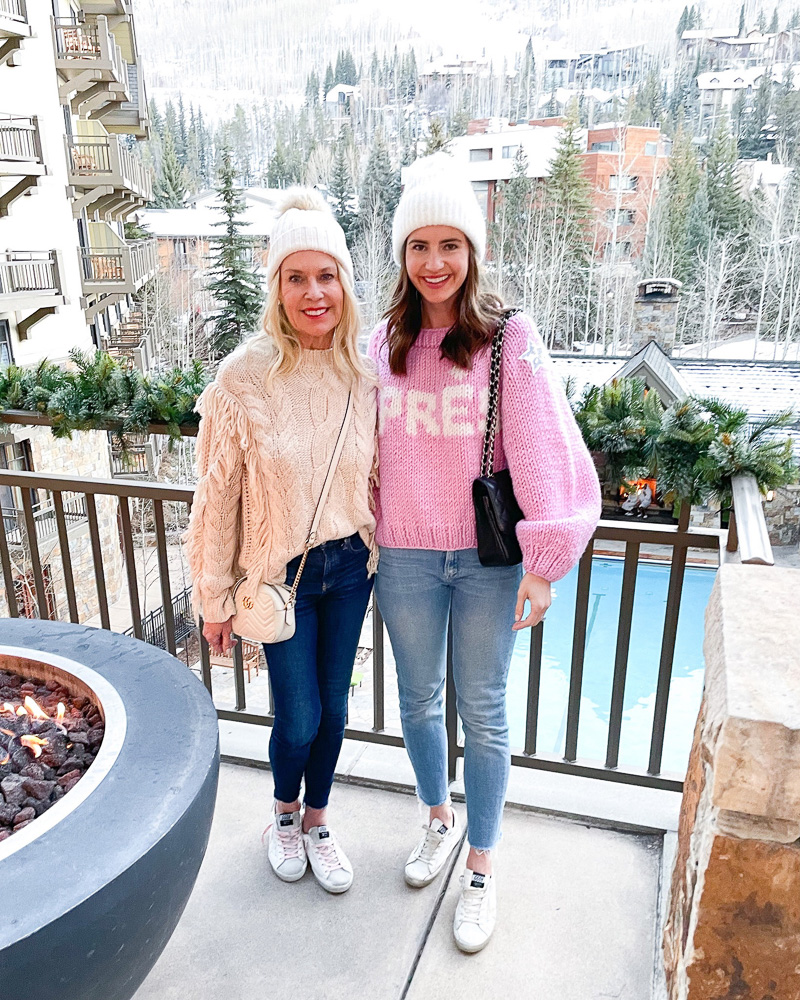 fringe sweater // sneakers // hat // pink sweater // sneakers // hat
// the prettiest place //
// the best time sledding – all ski gear is from saint bernard //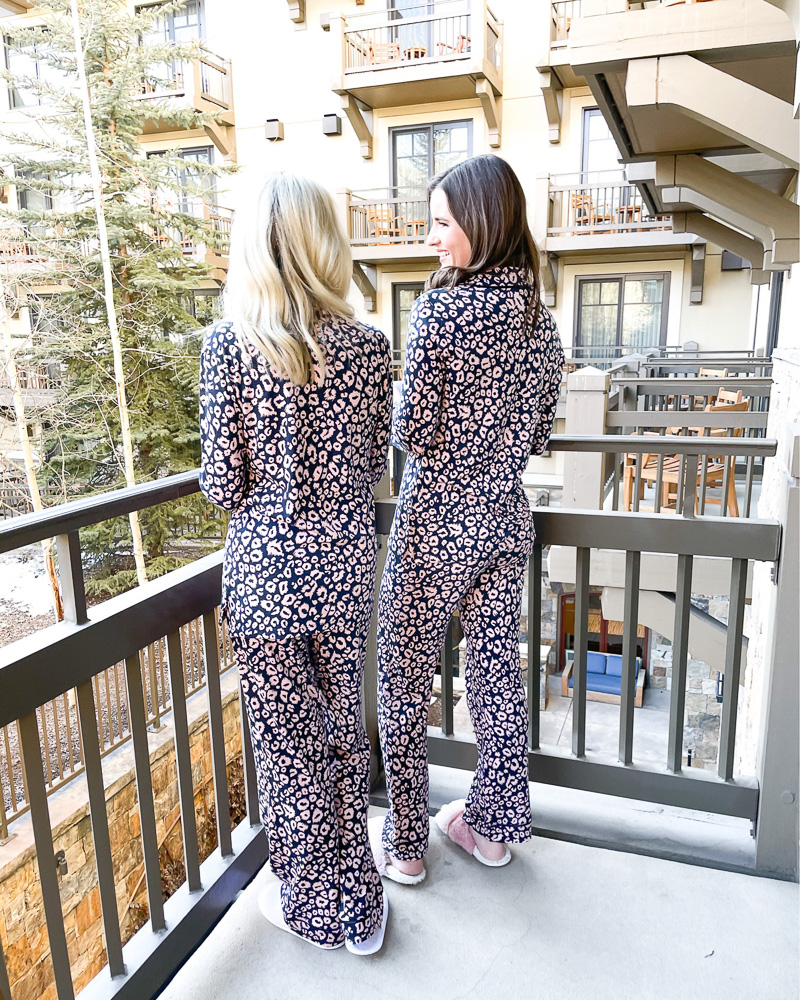 // leopard pajamas //
// ski school fun – all ski gear is from saint bernard //​​​​​​​
// fs vail ski concierge for the 20/21 season //
// we loved eating at remedy //
// dinner at back of house burger bar – pink sweater // jeans // pearl booties // grey sweater// otk boots //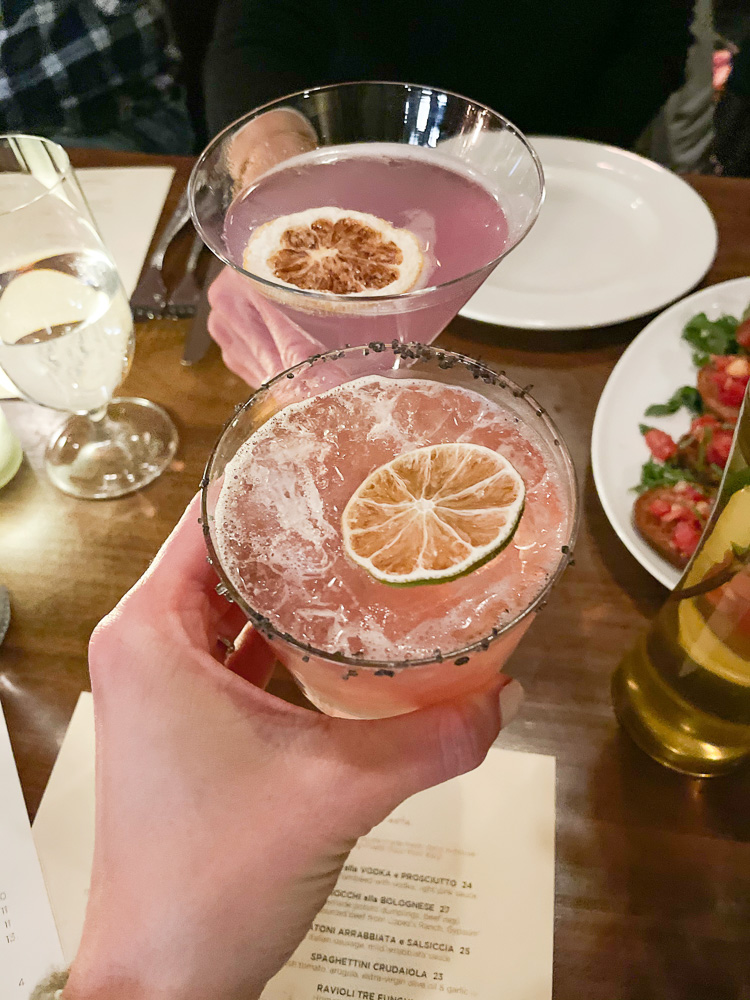 // highly recommend la nonna for dinner //
// until next time FS Vail! //
​​​​​​​Cheers,
Stia, Jean and Katherine