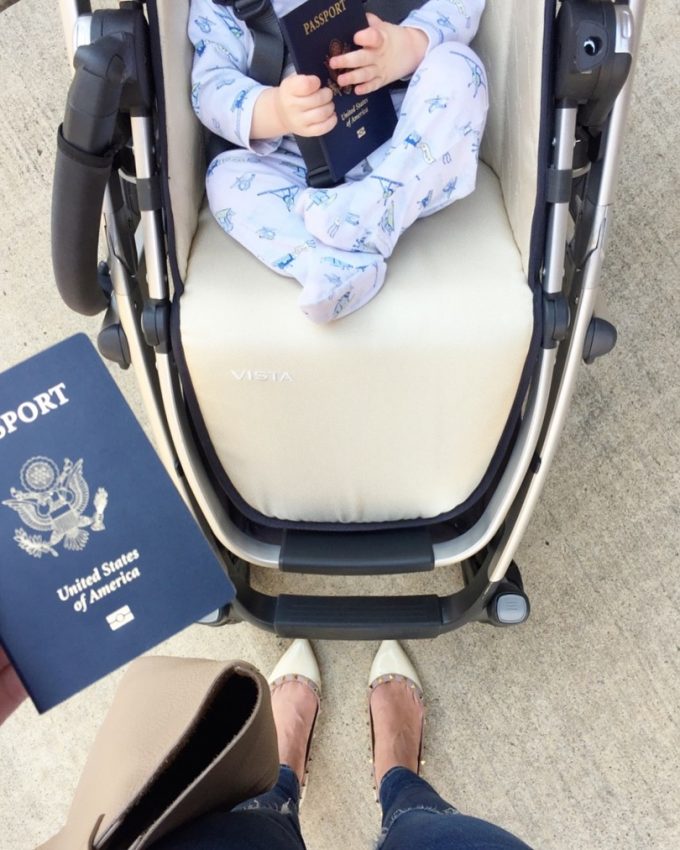 Happy Monday! It's been a week since Stia, Caleb and William returned from Finland and they are officially back into the swing of things. While they were away, so many of you reached out looking for tips for traveling with a baby. We shared a few tips after William's first trip to London at 8 weeks old, but so much has changed since then! Let's just say… be sure to start traveling when they're young because it definitely doesn't get any easier, but it does get way more fun!
Here are Stia's tips for traveling with an (older) baby:
If you want to buy a seat for your child, the airlines offer a discounted fare.
Don't pack too much. I am so guilty of overpacking, especially in our early days of traveling. Your baby will have plenty of clothes and so will you. We still pack diapers/wipes because it's easier than going to a grocery store when we land. Plus, there will be extra room in your luggage on the way home ie: space to fit all your shopping! You can see what we brought to Finland here.
When you check in at the airport, always ask if there is space with an open seat so you can bring your car seat on board. We have never bought a seat for William, but have been lucky enough to bring his car seat on for more than half of our trips!
Always reach out to the airline for a bulkhead seat. This is so important when traveling internationally. If you don't have status with an airline, these seats are typically an extra charge, but so worth it. You are guaranteed a bed for your baby and I can't tell you how amazing it is to be hands free and be able to get some rest. The international airlines that we flew only allow families to sit in the bulkhead, which allowed us an extra seat for William's car seat too.
Bring your car seat and stroller. We have always brought our stroller and car seat with us. William never liked to be worn, so the car seat was a better option for us. Plus, you can gate check both items. Be sure to buy travel bags to protect your stroller and car seat. We have this one for the stroller (it comes with a guarantee to replace your stroller if it is damaged while in the bag) and this one for the car seat. I have no idea what we do once William is too big for his infant car seat. Mamas with older babies- Do you rent a car/car seat? Bring your car seat? The infant seat is just so easy to bring at this age!
Always feed your baby or give him his pacifier during take off/landing: I am nursing, so I just wear a nursing friendly top and feed William during take-off and during the initial descent. If your baby falls asleep before take-off/landing, don't wake them! They will sleep through any ear pressure. Before William's first flight at 8-weeks old, he had his two month check-up. Our pediatrician said that it's a very small percentage of babies with ears that hurt during flying- so don't let that scare you into not traveling!
Learn the art of distraction: If you can sense your baby starting to get bored/fussy/restless, think about the things they like to do at home. William loves to go for walks- so we stroll the aisles. He loves to be outside, so we look at clouds out the window. William loves to flirt, so we take a walk back to say hi to the flight attendants. He also loves cups/water bottles so I let him play with those. Also, it's a good idea to buy a new toy for the flight so it keeps your baby's attention longer.
Dealing with time changes: We've experienced most of them! Behind two hours in California, ahead one hour in New York and Charleston, ahead six hours in London and ahead eight hours in Finland. I have to say that I am so thankful my baby adapts well. When we fly to the West Coast, we try to encourage three naps vs. his normal two. That way he is up later in the evening, ready for bed around 8 pm and won't be waking up at the crack of dawn! When flying to Europe, the flight is overnight so we put William right to bed. He will usually sleep in my arms until the lights turn off, then we will move him to the bassinet. He is usually pretty sleepy when we get to Europe, so we won't let him take a nap longer than 2.5 hours. That way, it's more like his "daytime" routine. I do have to say that it was much harder to adjust going to Finland. William would wake up at 4 am and want to play, so I would stroll him around the hotel (both in our pajamas) until he would get sleepy again! Because we were only there for four nights, we decided to just go with it which made for a much easier transition when we got back home!
Schedules: We don't have a schedule, but if you follow a strict schedule I suggest planning your day out around when your baby naps. There is nothing worse than an overtired baby!
Stroller naps: Because we don't follow a schedule and I don't mind if William naps on the go, we try to make his stroller naps as much like a crib nap as possible. Thankfully, our stroller reclines, making it a cozy nap spot. I also use a white noise app, which William always sleeps with in his room.
Hotel Requests: Be sure to request a crib and when you check-in see and if there is a larger room available or a room divider.
Get a blow-out pre trip: This may seem silly, but I got my hair blown out before we left for Finland and it was one of the best things I've done for a trip! My hair always lasts a lot long longer after a blow-out, so I didn't have to wash my hair at all while we were there. It saved so much time in the morning when we were trying to get out the door. By the last day I was ready for some dry shampoo! Caleb was a big fan and encouraged me to do that before every trip.. He's not so patient waiting for me to get ready!
Hope these tips help. As always, please feel free to reach out or leave a comment if you have any specific questions about traveling with a baby!
Also, here are a few other baby related posts: william's birth story|three months with william|six months with william|william's nursery|new mom essentials|tips for traveling with a baby
Have a great week!
Cheers,
Stia, Jean and Katherine