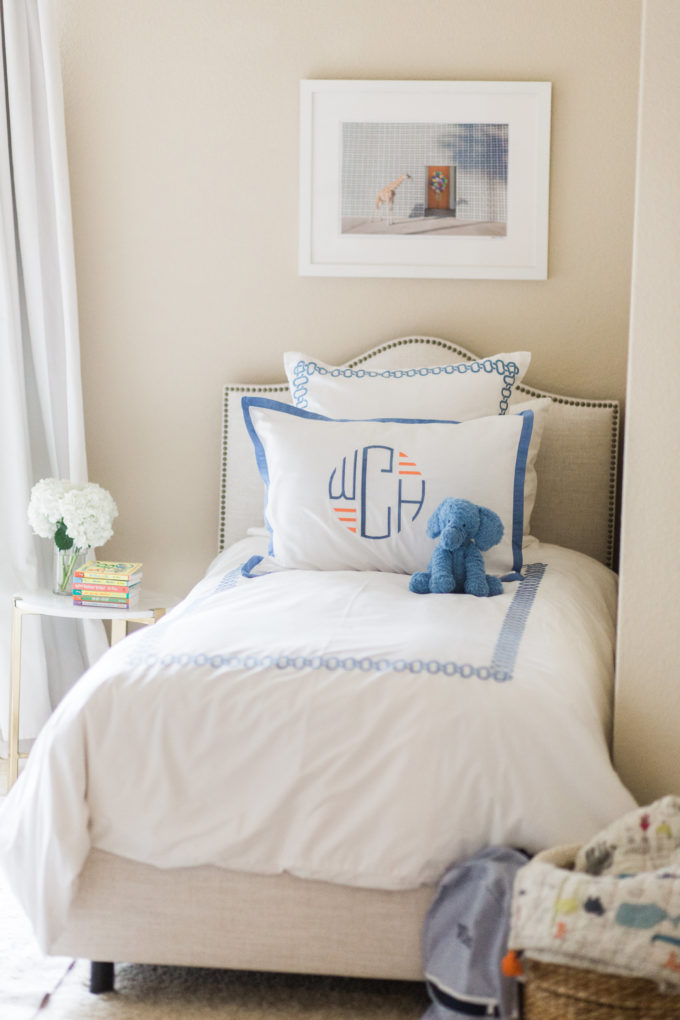 This post has been a long time coming! Last summer we set up William's toddler bed in anticipation of Henry's arrival in September. William was so interested, wanting to help us put it together and picking the perfect spot for his "big boy" bed. We talked about it a lot, but he never wanted to sleep in it. He was so cozy in his crib and we had space for Henry in our master bedroom so we went with it. Fast forward almost a year later and William finally told me he was ready for his big boy bed! In April, we had talked about how this summer he may be ready for his big boy bed and the day after his last day of pre-school, he woke up and told me "Momma, William ready for big boy bed". The fact that he was ready is 100% why this transition went smoothly for us. I am pretty sure that it would have been a much harder transition had we tried to force it last summer. We have so much going on this summer; William moving to his big boy bed, a big trip to London and Portugal, planning to potty train following our return and moving to our new house. I really wanted to space out these big changes for William, so I'm glad we have this one knocked out! This is what worked best for us, but would love to hear any of your tips, too!
Transitioning to a Big Boy Bed
No. 1) Wait until they are ready
Hands down, this is the most important thing we did. It wasn't ideal at all – considering Henry is still sleeping in our room, but it made it the smoothest transition for William. I didn't want to make him afraid of going to sleep, or not feel secure after taking him out of the safety net of his crib. He slept so well in there, which is also why I didn't want to push him. But when he decided he was ready, he was really ready!
No. 2) Read books and point out pictures of kids in the big bed
When reading books, I would always point out or read that "Paddington", or whichever character, was going to bed in a" big boy bed", etc. We talked a lot about him one day moving to his "big boy bed" and I think it helped William to know that would eventually be him one day.
No. 3) Invest in a nighttime light
A few friends had recommended getting a light that would switch colors to signal to William when it's okay to get out of bed. I ordered the Hatch Baby light from Amazon and that was half the fun for William in getting set up for his new bed. He picked a color (yellow) for when he was to stay in bed/sleep and then a color (blue) for when it's time to get up. It plays white noise and you can adjust the color/noise from an app on your iPhone. This has been the best thing to keep William in bed during the night and during naps. He gets so excited when he's ready to get up and the light turns to blue.
No. 4) Add rails
William is in a twin bed, so rails were necessary because he is such a wild sleeper. They are definetly not pretty, but they make him feel safe and secure. I ordered them on Amazon and will keep them on for as long as he wants them.
No. 5) Make it exciting
Moving to a toddler bed is such a milestone and we like to celebrate everything in our family. To celebrate the occasion William got to pick out something special to have when he woke up that first morning. He's is very into floor puzzles right now, so the night before he stayed in his bed for the first time we had him pick out a new puzzle on Amazon that he could open after the first night in his big boy bed.
No. 6) Be prepared for a few weeks to transition
William has been in his bed for a month now. We were at home most of that time, which helped make the transition smoother. He does not want to sleep in a crib or pack n' play while we are traveling now, so I learned that I need to be flexible with our sleeping arrangements. When we were in Del Mar, I just put some pillows along the side of the mattress and covered the pillows with a sheet so he wouldn't roll right off.
TODDLER BED DETAILS
twin bed in talc linen-c/o // savoy duvet in french blue – c/o // savoy euro sham in french blue -c/o // border standard sham -c/o // monogram // welcome to the parker print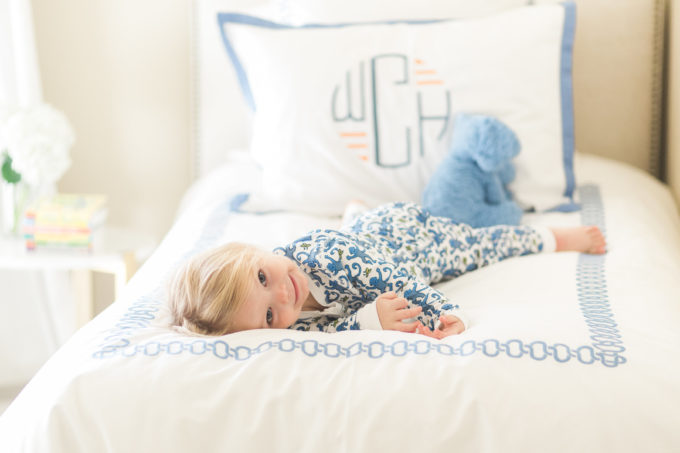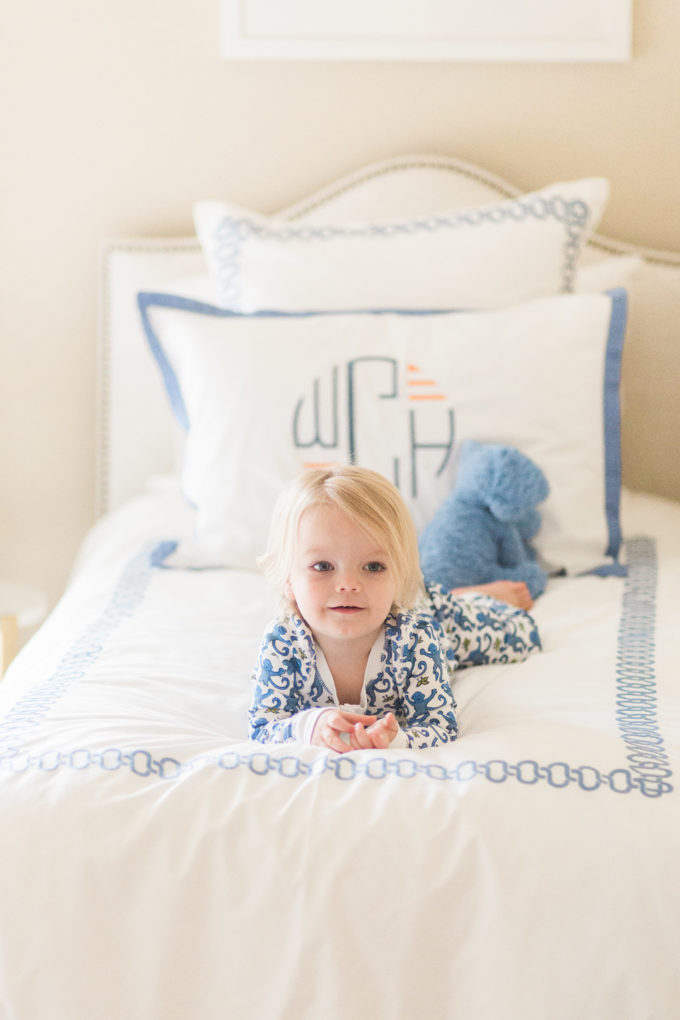 Cheers,
Stia, Jean and Katherine