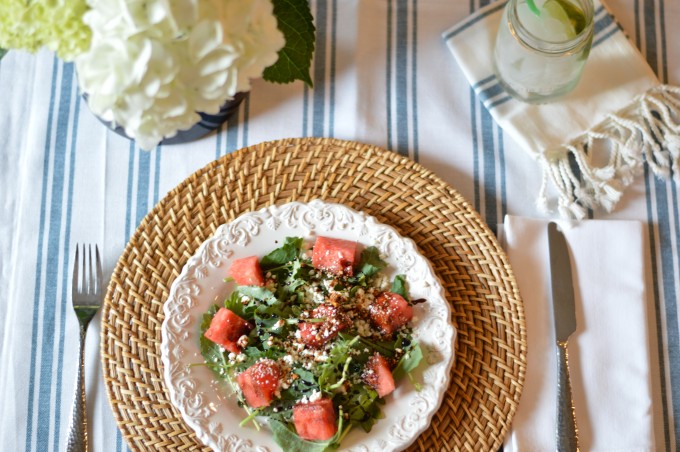 Happy Summer!  With summer officially in full swing, we spent the weekend outside by the pool relaxing.  Grilling out by the pool is our favorite way to cook during the summer and this weekend was no different.  In our opinion, dining al fresco is the best, and while the weather is still cool enough, we are taking full advantage of it!  We love to set the table with a tablecloth and fresh flowers, cloth napkins and silverware.   The guys grilled steak (for them) and salmon (for us) and we made one of our favorite go-to summer dishes: watermelon and feta salad.
One of the reasons we love this salad is because it is so easy to make, but we also love it because we get to use produce that is in season.  It is a composed salad, plated and prepared individually for each person.  One of our favorite sites to find recipes by searching for key ingredients is Epicurious.  We find that their ratings and comments are really accurate, and we have found some great new recipes this way, like this salad.  We served this as a side dish for Father's Day yesterday, but it is so easy to add some grilled chicken or steak and serve this as the main course!
Ingredients:
1 5-ounce package salad greens (we used organic baby kale)
8 cups 3/4-inch cubes seedless watermelon
1 7-ounce package feta cheese, crumbled
2 tablespoons balsamic vinegar glaze
Preparation:
Arrange salad greens on each plate. Scatter watermelon, then feta over. Drizzle with balsamic glaze and sprinkle with pepper.
Ingredient tip: Balsamic vinegar glaze can be found in the vinegar section at many supermarkets. If unavailable, boil 3/4 cup balsamic vinegar in a small saucepan until reduced to 3 tablespoons, 6 to 7 minutes.  So easy!
Cheers,