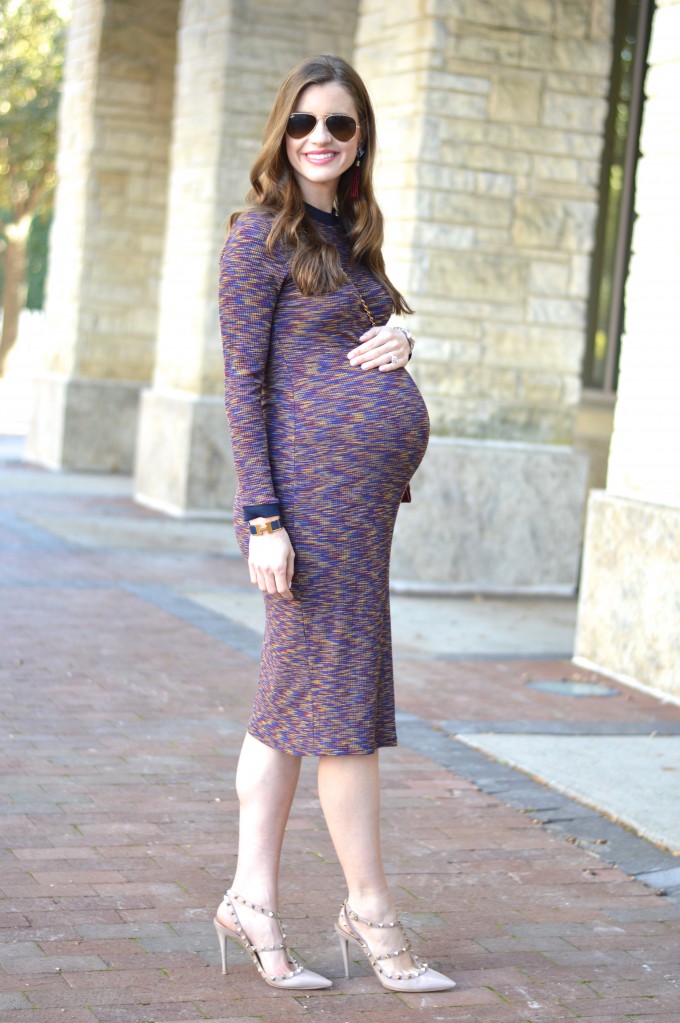 Bags are packed. Nursery is done. Now we wait. I thought I had learned a lot about being patient by not finding out the gender of our baby, but these last few weeks have been brutal waiting for baby's arrival! We are dying to know if we are adding a baby girl or baby boy to our family. We are as ready as we can be, although I am hoping for a few more days to get over an awful cold and get to my mani/pedi appointment on Friday. Priorities… I know 😉  In the mean time, we are being spoiled by friends and family and enjoying the last few days/weeks as a family of two! In some ways, it has seemed like an eternity since we first found out we were expecting in early May, and in some ways, the time has flown by. We really want to thank each of you for following along on this crazy pregnancy journey and for all your tips/suggestions.  Hoping you continue to join us as we add a new family member to Bishop & Holland!
How far along? 39 weeks
Size of Baby: 20 inches and about 7 pounds or the size of a watermelon (an estimate)
Gender: Going to be a surprise- see our reasons why we are waiting to find out here
Names: Boy is 90% decided on and we have about four girl names we think we like- your guess is as good as ours! Caleb thinks as soon as we see baby girl, we will know her name, but I am not so positive…talk about last minute!
Milestones:

Full term baby- We are so thankful to God for a healthy pregnancy and now a full term baby. Pregnancy is such a miracle and we have really learned that we are not in control at all. Even though I may be borderline miserable on some days, I am so thankful that our baby is safe inside my belly, and now is fully developed and ready for life outside!
Hospital bag is packed- With the baby coming any day now, our bags are packed and ready to go at a moment's notice. You can see what I am bringing to the hospital here
Nesting- Nursery is done (see my inspiration for our gender neutral nursery here), powder bath is painted, closets are cleaned out and kitchen has been organized.  Caleb and my family have been huge in helping me cross off my ever growing to-do list.
Labor signs- At my last doctor appointment, she said I was progressing towards labor and it can happen at any time. Now it's just a waiting game. We head back to the doctor next Wednesday to make sure baby is still doing good, check on fluid levels and decide on a game plan, because she won't allow me to go a week past my due date

Weight Gain: 17 pounds
Maternity wardrobe: I have about three shirts, three pairs of jeans, two dresses on rotation and a whole lot of yoga pants and pajamas. Thankfully I am working from the house this week, so I am able to stay comfortable for most of the day. I am so ready to be in my normal clothes again!  My mom took me shopping last week and I was like a kid in a candy store- so many cute things. First things on my list: a cute jumpsuit for an upcoming trip to Vegas, and this striped top to be able to throw on with jeans and flats! See my maternity style here
Pregnancy symptoms: Backaches somedays, but honestly nothing to complain about. In the past I have not been a bath person, but they have felt amazing during pregnancy!
Sleeping: Besides a few rough nights with this cold, I have been and continue to sleep great. I am trying to get all the hours I can get now before I am up every few hours with the baby
Food cravings: Nothing in particular, but I am indulging just a little bit more knowing that pregnancy is almost over: In 'n Out and Talenti gelato to name a few.
Exercise: It seems every update I have cut back to one less class! Between having a cold and being super pregnant, I have only made it to FlyBarre twice a week for the past couple of weeks. I am so excited to get back into the swing of things after baby!
PS: We would love to hear… do you think boy or girl?!
midi dress- on sale! (another color and non-maternity)|earrings|nude pumps|red crossbody bag|gold aviators
midi dress- on sale! (another color and non-maternity)|earrings|nude pumps|red crossbody bag|gold aviators
Head here for: 12 week bumpdate, 20 week bumpdate, 28 week bumpdate and 34 week bumpdate
Shop this look:
Cheers,