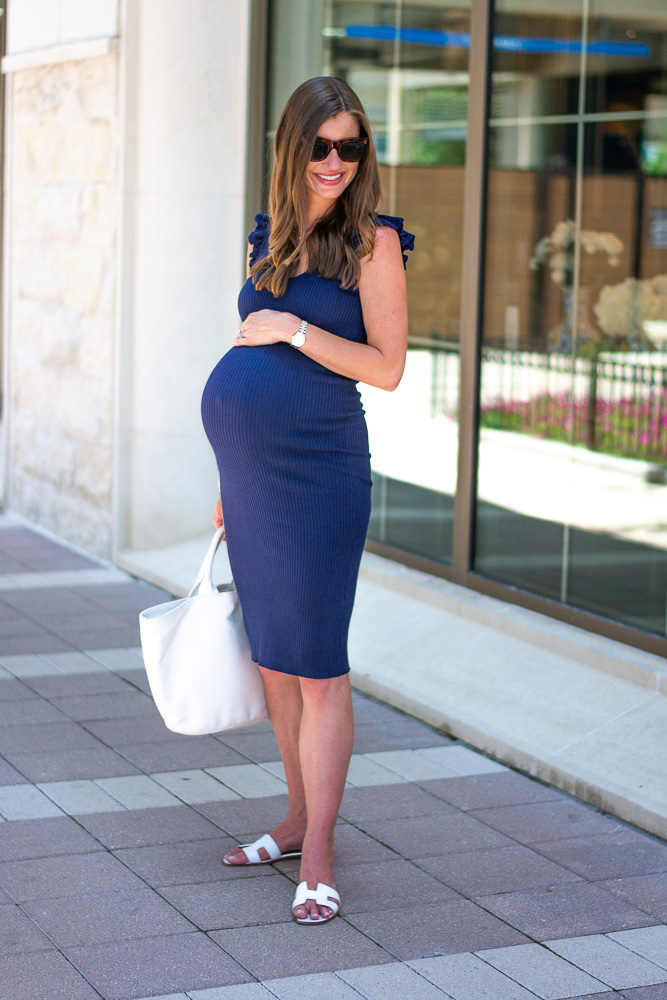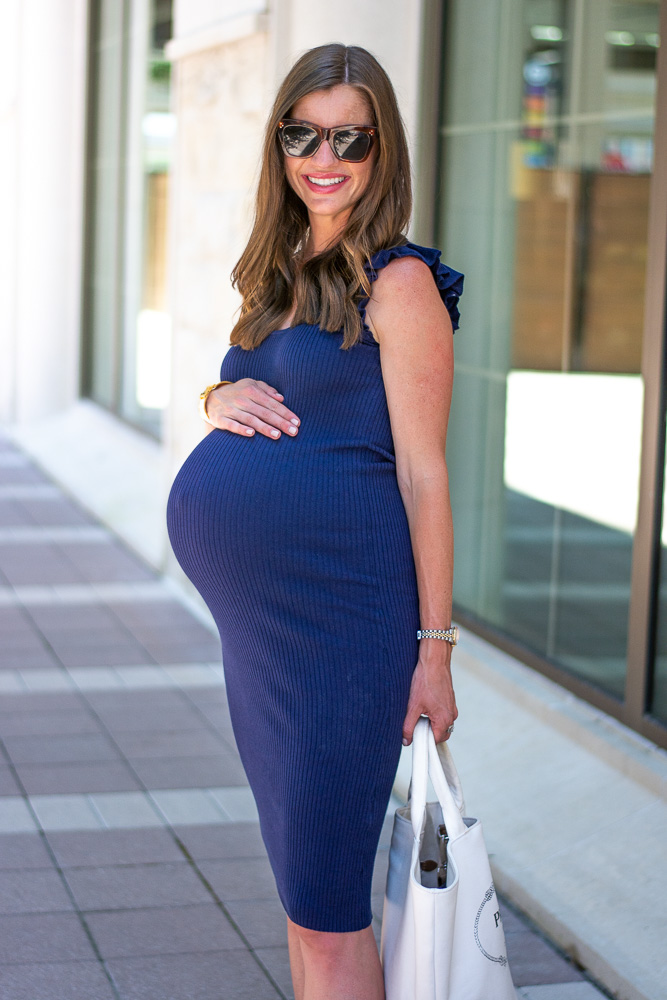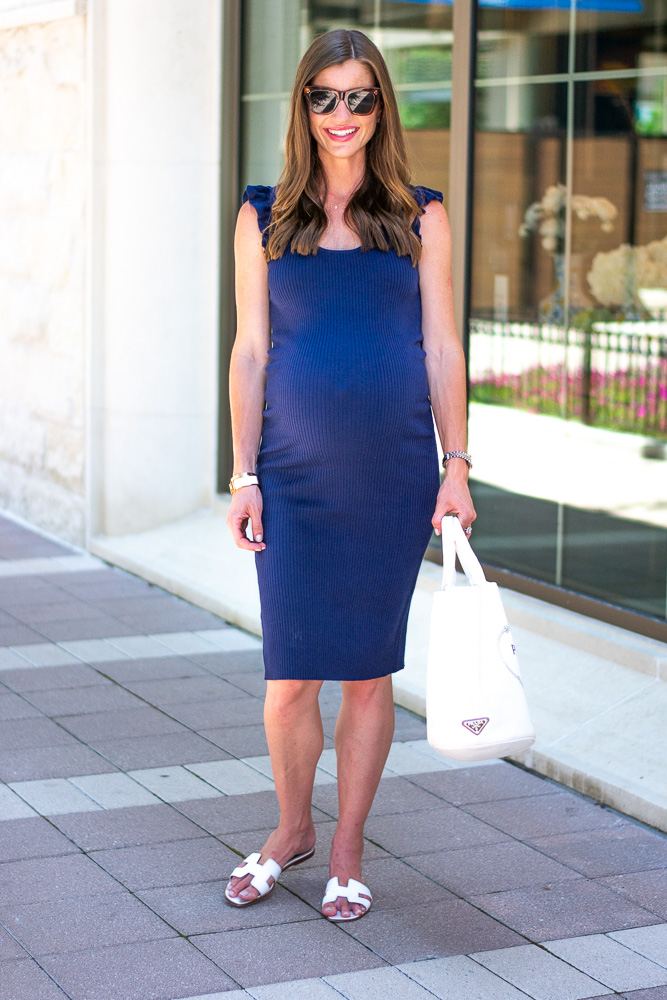 It is the craziest thing that we're expecting our baby any day now! I had my last appointment earlier this week and now we are just waiting it out. I thought I had gotten most of the "nesting" out of my system, but I found myself cleaning out and organzing our pantry, refrigerator and freezer, the boys' bathroom and both of their closets. Hoping now I can relax a little!
It's so bittersweet knowing that we are at the end of this pregnancy. It went by really fast and I am so excited to meet our baby. But then I am also sad that this will be my last pregnancy. Thanks for following along over the past few months and we are so excited to share the news soon! Xx
Third Pregnancy Posts
baby news // second trimester bumpdate // old wives tales to predict baby's gender // 34 week bumpdate // what's in my hospital bag
Outfit Details
navy dress // sandals (similar) // tote bag // sunglasses
How far along?
I'm 39 weeks today!
How are you feeling?
So ready! Knowing that labor can happen at anytime and that we are "ready" to bring our baby home, I'm just so excited. I can't wait to find out what we're having, can't wait for the boys to meet their new sibling and can't wait for those newborn snuggles.
Gender Guesses
I still feel pretty confident that we will be having a baby boy! Boy or girl – I am just thrilled to find out soon! And no, we still haven't decided on a boy name yet!
Signs of Labor
Nothing at all besides some Braxton Hicks contractions. I had my burst of energy/nesting two weeks ago and now just laying low, staying busy with the boys!
Induction
Because I have gestational diabetes, I am unable to go past my due date due to risk of having a big baby. We had a sonogram earlier this week and while baby is measuring right on track for gestational age, we decided to go ahead and schedule an induction for early next week. Eeek!
FAQS
What are your favorite nursing friendly dresses?
I ordered a few dresses for summer that are nursing friendly. I also plan to wear a lot that I've been wearing already. Most of them are nursing friendly and that makes it easy to feel more "normal" postpartum.
ADD SHOP
How are you surviving the heat?
A lot of time in the pool and avoiding any outdoor activities that don't involve water! The boys have swim lessons twice a week and we are in the pool pretty much every day for a few hours. They can't get enough of the water and it's been nice to float and feel cool. I've also been fortunate that it's been a cooler June than we normally have and the heat hasn't been too terrible yet!
How did you know you wanted kids close in age?
We always wanted our kids to be close in age, have things in common and we are praying for close relationships, too. We know that you can have all those things with kids spread further apart, we just liked the idea of a closer age gap.
Favorite girl names?
We both like more traditional, old-fashioned baby names for girls. I'll share our list after baby arrives. The girl name we've decided on is a family name that has been used for generations.
Are you thinking you're maxed out at three?
Yes, we are done!
Do you have a nanny?
We don't, but my parents live 1/2 a mile away and are always lending a hand. Couldn't do it without them! I'll see how the rest of summer goes and how we do once pre-school starts back up for the boys this Fall before deciding if I need more help.
Shop Outfit Details:

navy dress // sandals (similar) // tote bag // sunglasses
Cheers,
Stia, Jean and Katherine