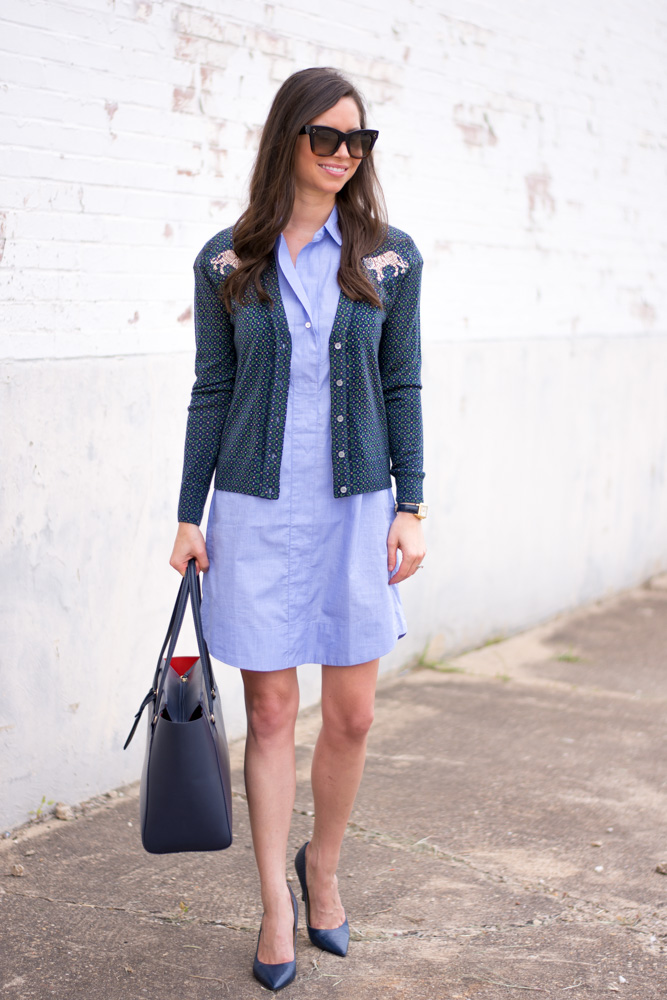 When you go to an office everyday, workwear is an important part of your wardrobe. I work in a law firm in downtown Dallas and while my office isn't super formal, I need to have a certain amount of professionalism in my workwear. After a summer of a more casual vibe, it's definitely time for me to update my fall work wardrobe! To make it easier to get dressed for work every morning and also to pinpoint items I need to add to my work wardrobe, I put together a list of my key pieces for a fall work wardrobe.
A simple dress is the perfect place to start building a work wardrobe. When shopping at Nordstrom, I found this classic shirtdress in light blue. One of the things I love most about it? The fact that it can be worn now by itself and then worn later by layering! Add a cardigan -I love this cardigan with the tiger patches to spice things up a little bit – or a blazer, a pair of classic pumps and a tote bag for carrying a laptop, workout clothes and paperwork, and you have a basic formula. A skirt and a button down shirt is a great substitute for the dress. I found all of these pieces at Nordstrom which made it really easy to update my fall work wardrobe!
One of the things that I find works best in building a work wardrobe: sticking to a color scheme. This dress will also work with burgundy, navy, black or tan. If you stick to mix and match colors, it makes it easy to put together an outfit for the office without thinking about it too hard!
shirtdress|cardigan|heels|tote|watch|watch strap|sunglasses|earrings
Cardigans/Blazers
This is the easiest way to change up a simple or solid colored dress. This ruffle hem cardigan is too cute, a basic cardigan that comes in six colors and how cute is this blazer?




Dresses
It shouldn't come as any surprise how much we love dresses. But, especially for work. They are so effortless and that's what we need when the alarm goes off early in the morning! A great basic dress for $88, this burgundy dress is adorable and this shirtdress is too cute.



Pumps
You can't go wrong with a classic pump for work. My favorite pumps are now available in ten colors!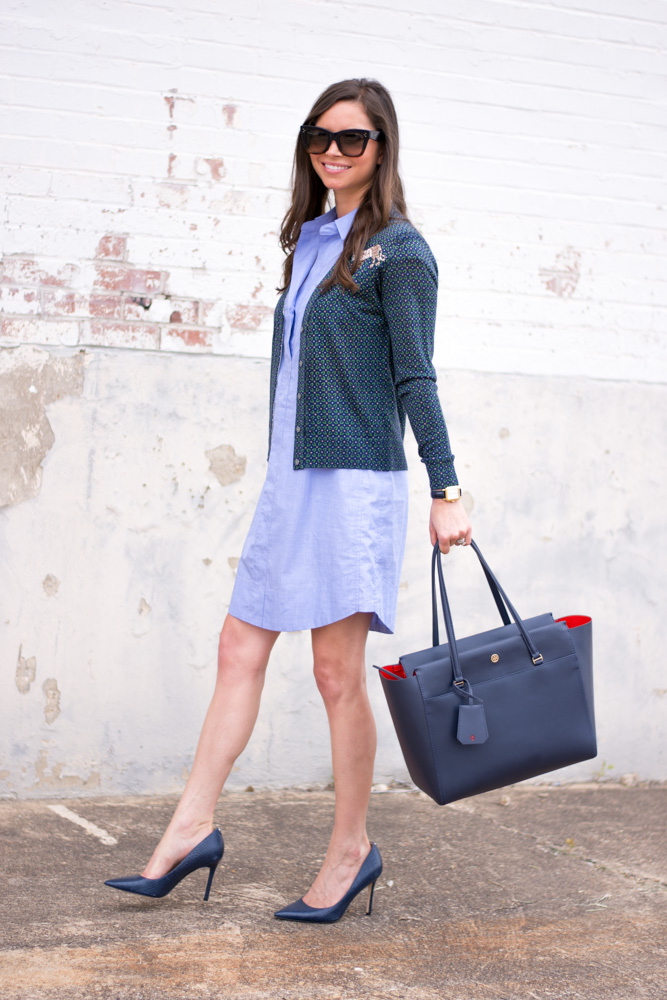 Tote Bag
The only work bag that will hold everything! Absolutely love the color of this tote bag, this tote bag is a steal at $48 and this is one of our all time favorite tote bags – worth the splurge!


Key Pieces for your Fall Work Wardrobe:
shirtdress|cardigan|heels|tote|watch|watch strap|sunglasses|earrings
Cheers,
Stia, Jean and Katherine
Thank you to Nordstorm for partnering with us to bring you this post!