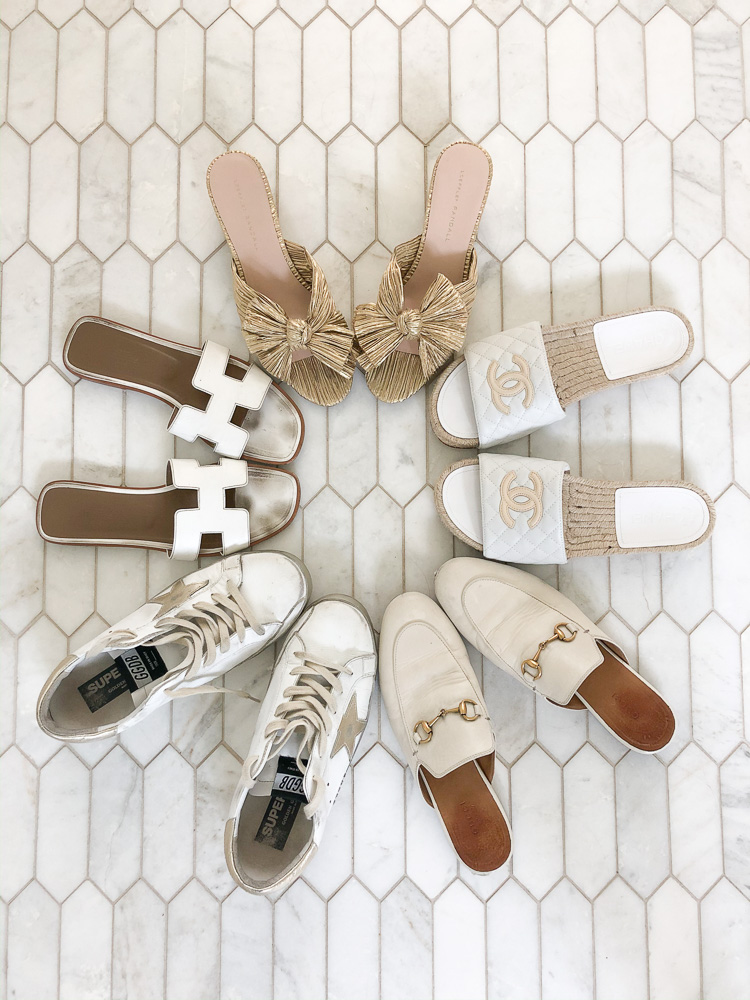 bow sandals // espadrille slides // mules // sneakers // sandals
With summer just around the corner, we're starting to think about our summer wardrobes. We've been ordering bathing suits, coverups and maxi dresses and trying to figure out what works and what doesn't. And also hoping we will be done with quarantine by then! One part of our summer wardrobe is pretty set; shoes! Here are five of our summer favorites. Come on summer- we're ready for you!!
Bow Sandals
These are the best statement shoes ever. They are cute, the bow makes a statement and they are the most comfortable heeled sandals you'll ever wear. They are also available in different colors and height options, including flat!

Espadrille Slides
The Chanel espadrille slides are a new addition (They aren't online, but here is a similar option). They are a great casual shoe to wear with shorts, dresses or your cover-ups!

Sandals
These sandals are the best for everyday wear. They look cute with anything and they are very comfortable! We reviewed them here. They are a splurge, but the price per wear is something to consider! We own in white, tan and black. Below are a few options to get the look for less:

Mules
We actually wear these mules year round – they literally go with everything and are so comfortable!

Sneakers
100% the most comfortable shoes ever. We reviewed Golden Goose vs. Gucci sneakers and find ourselves reaching for the Golden Goose every time. We wear these all the time. Here are some great neutral sneakers for Spring/Summer across all price points:

Cheers,
Stia, Jean and Katherine