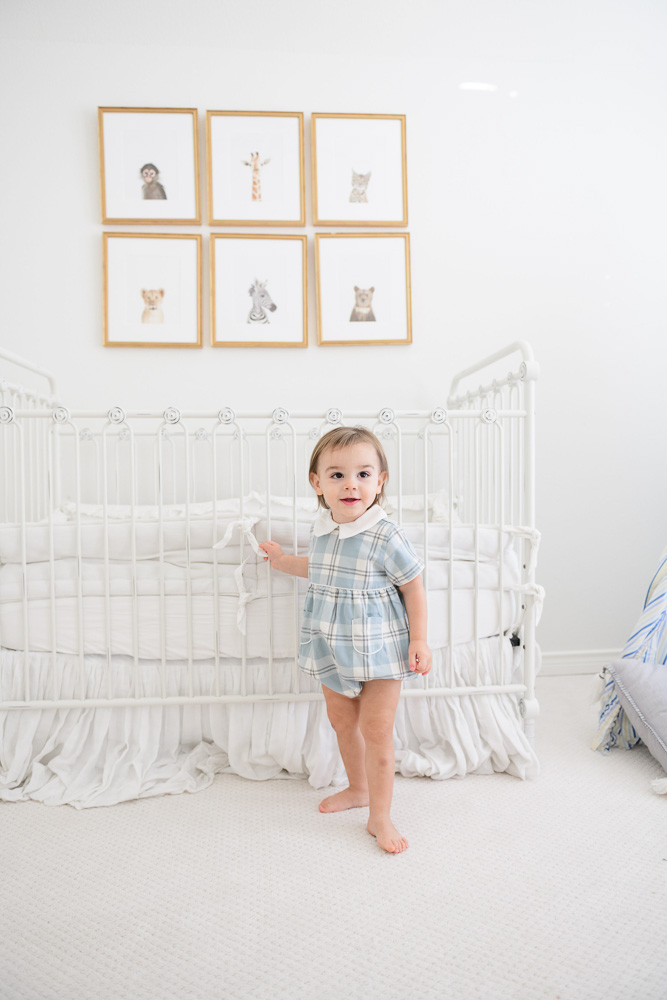 plaid bubble // ruffle top // jeans
It's really hard to believe that our little Ford is already 18 months old. His first 18 months have just flown by! It might be in part because he seems to be in a big hurry to grow up. He wants to be just like his big brothers, so he's hit all his milestones especially early. Now that he's walking, talking and even running, there's no turning back!
Height/Weight
We go to the doctor this week, but he continues to be tall and has the cutest chubby thighs!
Sleeping
Ford is down to one nap and sleeping all night long. He loves his sleep and is very ready for bed at the end of the day!
Personality
Ford is as sweet as they come. He is very vocal, really starting to talk a lot and saying new words every day. He is also very independent. He does everything on his own and wants meals/toys/etc just like his brothers. He goes non-stop all day long while he's awake. He is bossy and/or strong-willed 😉 and he has his lovie "bun bun" with him at all times.
He's very into trains right now. He calls them "choo choo trains" and wakes up wanting to play with them. He loves watching Cocomelon and when he gets tired, he pops his thumb in his mouth, grabs "bun-bun", hops on the sofa and asks to watch "Coco". ​​​​​​​​​​​​​He is so social; he says "hi!" to everyone he sees and has never met a stranger he didn't want to get to know.
Schedule
We are still following the same "schedule" from when Ford was 15-months old. He typically wakes around 8 am, breakfast and play. Lunch is around noon, nap around 1 and bed around 7ish.
Nursing/Weaning
Nothing has really changed here. Ford is still nursing at night and in the morning.
Solids
Ford has gotten a little bit picky, but he will still eat pretty much any fruits and vegetables. He loves berries, yogurt, avocado, brussel sprouts, pasta, steamed artichokes and pretty much any vegetable. Very different than his big brothers!
Travel
Travel has been a bit different this year, but we are thankful we got to take Ford to Vail this winter and enjoy the snow!
Milestones
Vocabulary has grown a ton
Walking down steps without holding on to a hand or railing and climbing on anything/everything!
Learned to ride his scooter
Running and jumping
He loves to color and asks for his "colors" everyday!
Must-Have Baby Items
Cheers,
Stia, Jean and Katherine