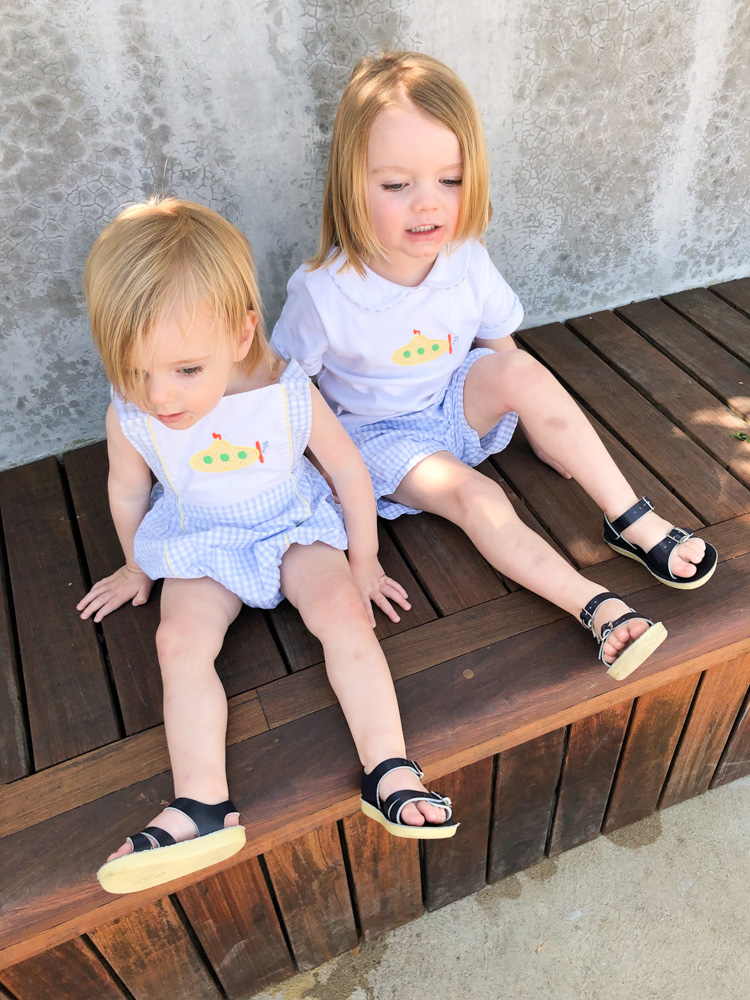 Our Favorite Summer Shoes for Toddlers
One of our most popular posts this spring has been Our Top Five Summer Shoes for Toddlers, which we posted almost two years ago. Even though our favorites haven't changed a lot, it seemed like it was time for an updated list! Stia was pregnant with Henry back then and William has grown so much. They are both very active, and our lifestyle has changed a bit with two very busy toddler boys, but our favorites back then still work great for both boys. So here we have our updated favorite summer shoes for toddlers.
Sandals
This may be a given, but sandals are necessary especially when it starts to really get hot! I think Salt Water sandals are the sweetest for boys or girls. My boys have tan and navy for this summer and I just love the look of them. They are classic. My mom had my brother and I wearing them when we were toddlers! I'm tempted to buy the boys the Footmates version. Whoever created these are a genius – they are velcro so easy on/off! Love this pink sandal, this gold sandal and floral sandals for girls!

Native Shoes
The boys love wearing their native shoes because it usually means we are going to play with water or swim! These are the best shoes because they can get wet or dirty and they're so easy to dry off and get clean! Plus, they come in every color possible! The boys have navy and yellow this year, but I am tempted to order them white, too! If you have a daughter, the pink glitter version is adorable, this floral pair is perfect for summer and the new mary jane style is too cute!

Sneakers
The sneakers I like for William and Henry are a more European style of sneaker, rubber soled with canvas uppers. Our favorites are Chus and Cientas. They're colorful and lightweight, and most styles are machine washable. They boys have this style in red and they have these in navy that can be worn with or without laces. We like these with a velcro closure too. These are the cutest for girls! Note: Chus and Cientas can be hard to find online, so check with your local children's boutiques if you have trouble finding the right color or size.

Rain Boots
We couldn't do a post on toddler shoes without mentioning Hunter boots. William and Henry love them! They like to wear them at anytime, not just in the rain. The love wearing them out in the backyard to play or to the park. And when we get some rain, they can't wait to put them on and splash in the puddles! Again, there is a rainbow of colors to choose from! PS: How adorable is this rain coat and umbrella?! We've needed them in Dallas with this rainy spring!

Special Occasions
In our opinion there is nothing sweeter than toddlers in classic saddle shoes. We love to have the boys wear them for special occasions and to church. Besides the classic navy and white, there are so many colors available now, this red and white style is so cute. There are even sizes for babies. Whenever we have a chance to dress the boys up a little, out come the saddle shoes! For little girls, Mary Janes are so adorable. These scalloped ones are precious and we love these in navy. PS: Don't forget knee high socks or ankle socks!

Cheers,
Stia, Jean & Katherine