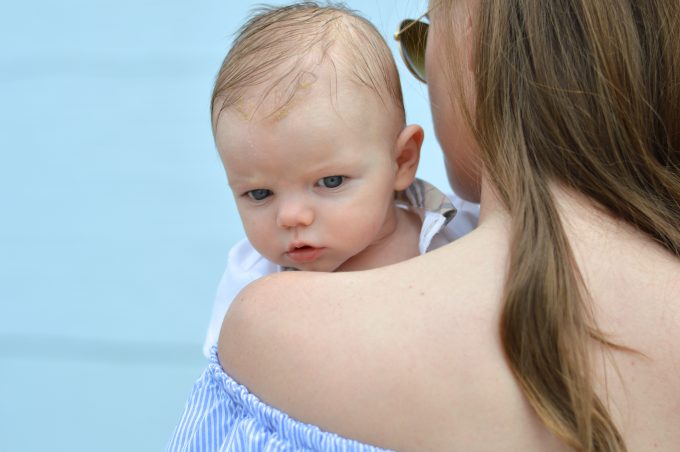 It's hard to believe that our William is three months old already. In some ways, that three months seems like it has flown by (didn't we just take his newborn photos?), but in other ways it seems like forever. Our pastor couldn't have said it any better- the days are long and the years are short. The past three months have been the best months of my life. As a person who wasn't a "baby" person, my world has been rocked (in a very good way). If you haven't been around kids or are scared to hold babies, it's okay. I definitely felt this way before William and things ended up just fine 🙂 I can't get enough of him and it's true… that maternal instinct comes on its own.
There have been a lot life changes and learning over the past few months and I thought I would update you on William and how things are going for us.
Weight: 13 pounds 2 oz Length: 24 inches- William is long and lean. He is currently wearing at least 6 months in most clothes and is growing out of them quickly! His everyday favorites are Kissy Kissy, but Gigi insists on him having a little Burberry in his wardrobe too! These little swim trunks are next on the list.
Sleep: William has been a good sleeper from the beginning. He was never confused between night/day and has always gone to bed easily (thank God!). Will slept in a moses basket in our room until our trip to London. Once we got back, we moved him into his crib in the nursery. The first couple of nights were rough, but we haven't looked back! He typically sleeps from 9 pm-6 am, but we have started to see a little sleep regression the past few nights, which we hear tends to happen around three months.
Nursing: When I first started nursing, it was very painful. I was expecting it to be uncomfortable at first, but at his 3-day old appointment, our doctor noticed he was tongue-tied. We saw an ENT a few days later for a procedure to correct it. I nursed him right after the procedure and what a difference it made! I have been exclusively breastfeeding (with an occasional bottle) since William was born. I know it doesn't work for everyone, but it has been great for us.
The Happiest Baby on the Block: It was at William's 4-week appointment that the doctor diagnosed him as colic. (Sorry, if you brought us dinner and our baby was crying for no reason #firsttimeparents). She told us to look into this book (that some of you guys also recommended to us) that describes the 5 S's as ways to soothe: swaddle, lay on their side, shush, swing and suck. At first we didn't think William liked being swaddled, but really we just needed one that he couldn't get out of! This one is our favorite. It really settles him down and allows him to relax and sleep. We just ordered this one to use for his next stage when we transition out of the swaddle.
Personality: It's been so much fun getting to see his personality develop. He is full of smiles and also talking like crazy. He loves the ladies- anytime there is a pretty face around, he smiles and bats his baby blues. Will also seems to be quite the deep thinker, he studies everything around him very intently! He is very easy going and we take him with us just about everywhere. He also has no problem letting us know when he is not happy i.e.: a wet diaper, fighting sleep and also during tummy time (his absolute least favorite activity).
Schedule: We are on the no schedule, schedule. Because Will nurses on-demand, every day is a little different.  Our typical schedule is nurse, play, sleep and repeat. So far this has worked for us, but I know as babies get older a schedule is really important.
Travel: Don't be afraid to travel with a baby! Travel is a huge part of our lives, so we took William to meet his great-grandparents in London at 8-weeks old. We shared our tips for traveling with a baby and we are excited that we have a few more upcoming trips planned.
Our must-have baby gear includes: Will's pacifier, Giraffe or "Raffe", is his best friend and goes with us everywhere, this swaddle was a lifesaver, we love our car seat/stroller set and travel bag, this diaper changing station fits perfectly inside my favorite tote bag, the cutest moccasins in every color (and they stay on even the tiniest little feet), lightweight muslin swaddles for blankets, car seat covers and nursing privacy and this bathtub makes bath time a breeze.
My best piece of advice is to take time and slow down. The newborn period is hard and wonderful at the same time. So many snuggles and so many cries. And diapers. We cleared our schedules to really take the time to figure out our new life and we are so glad we did. After being at home with Will for these first three months, Caleb and I have decided that I will not be going back to work and instead I will stay at home with Will. We have put a lot of thought and prayer into this decision and feel it's the best one for our little family. I truly loved my job and after being there for over 5 years, it's hard to leave, but I am so grateful that my job now is raising Will (and writing the blog with Katherine and Jean of course!). Will, you are the best thing that has ever happened to us and we are so thankful God blessed us with you! It's a joy being your momma.
on William: bodysuit|moccasins-c/o
on Stia: off the shoulder dress|espadrilles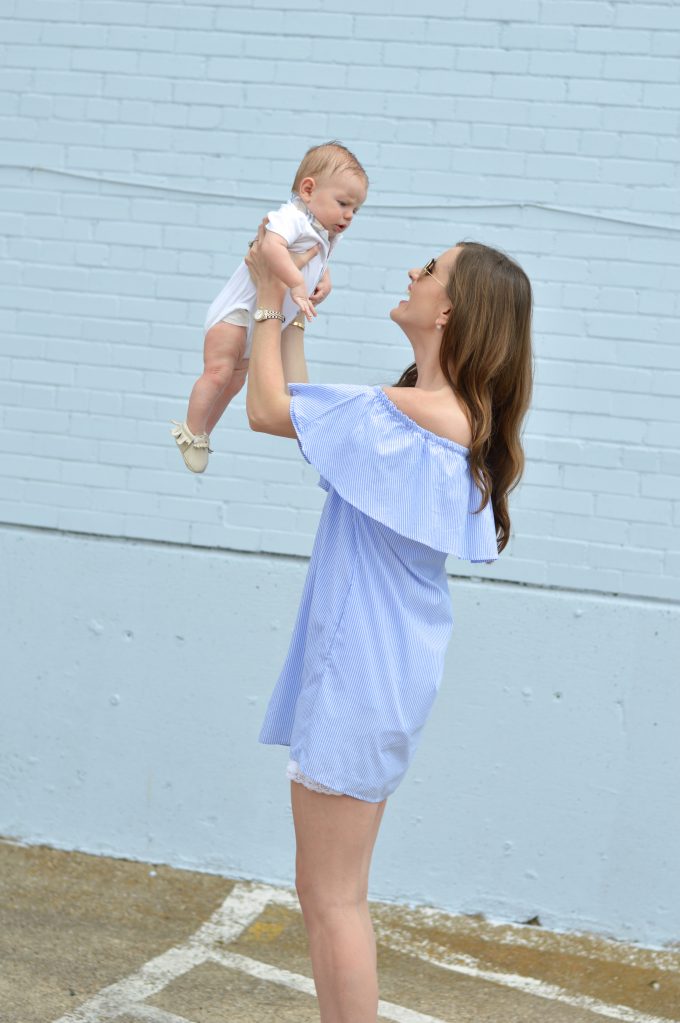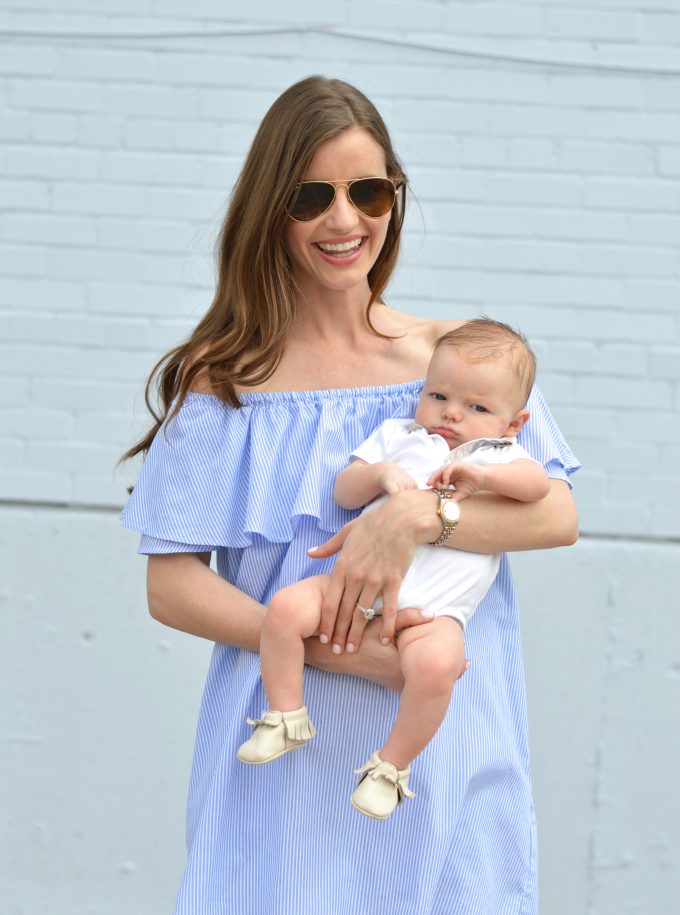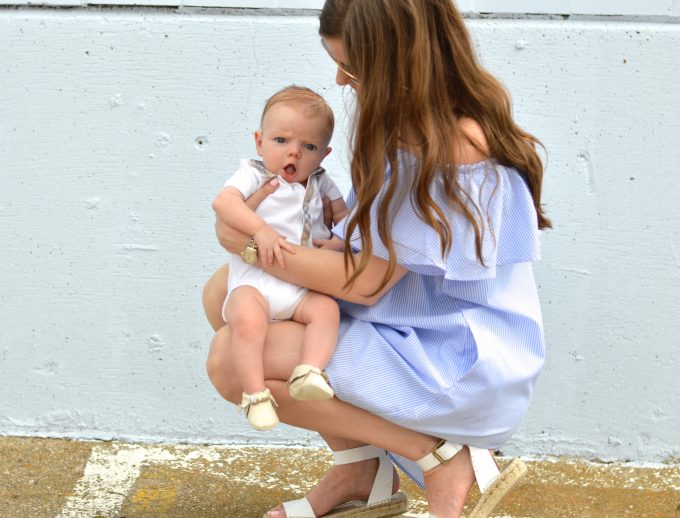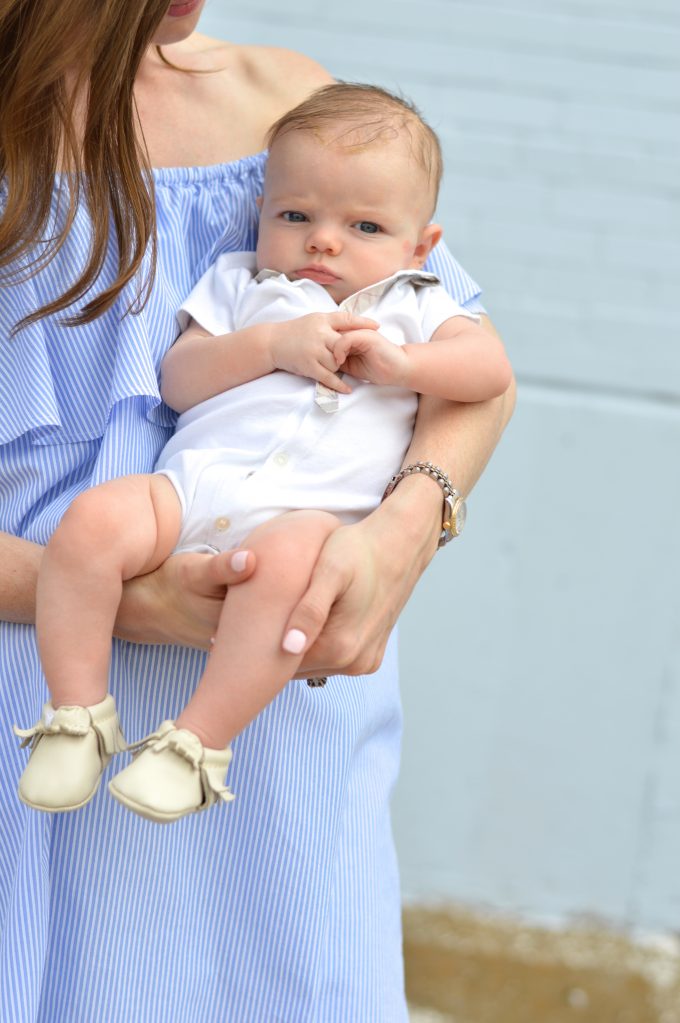 Shop our must-have baby gear:

Cheers,