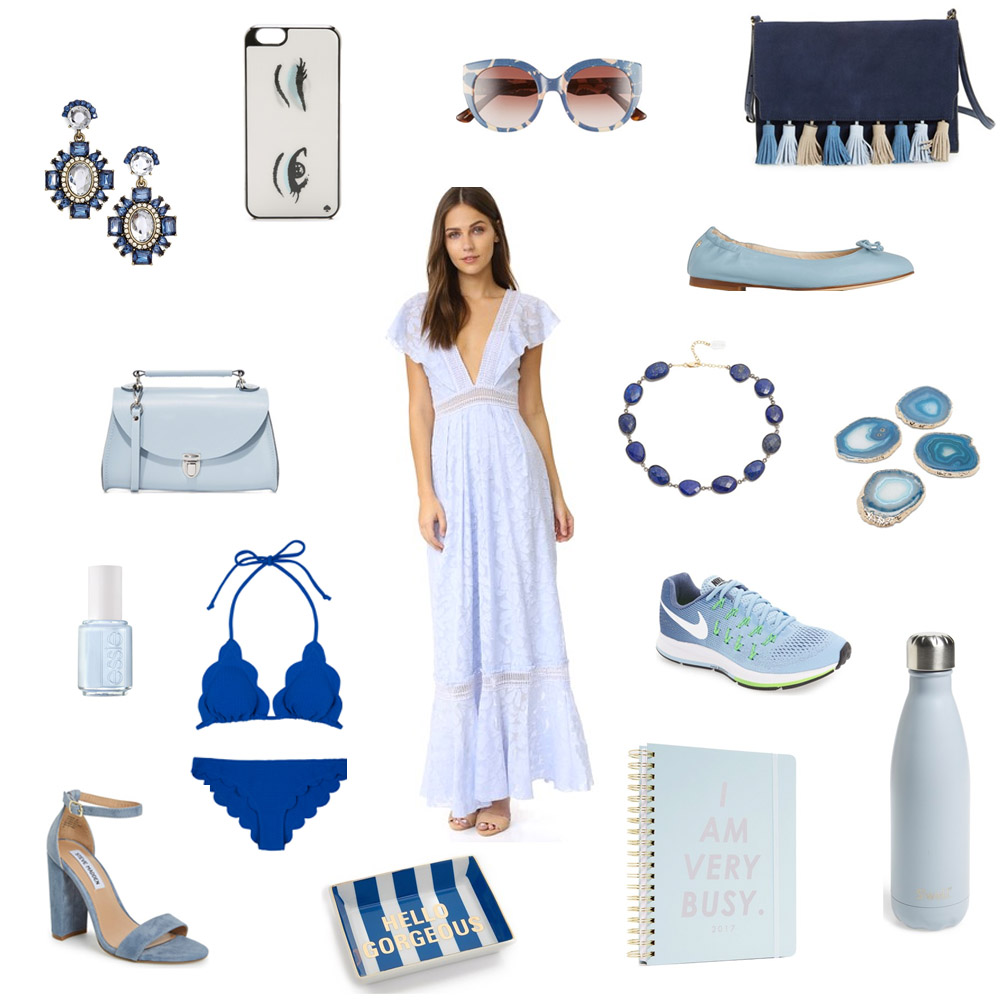 statement earrings|wink phone case|tortoise sunglasses|tassel clutch
mini satchel|maxi dress|ballet flat|choker|coasters
nail polish|bikini|tennis shoes
sandal|jewelry tray|notebook|water bottle
Shades of Blue:

Cheers,
Stia, Jean and Katherine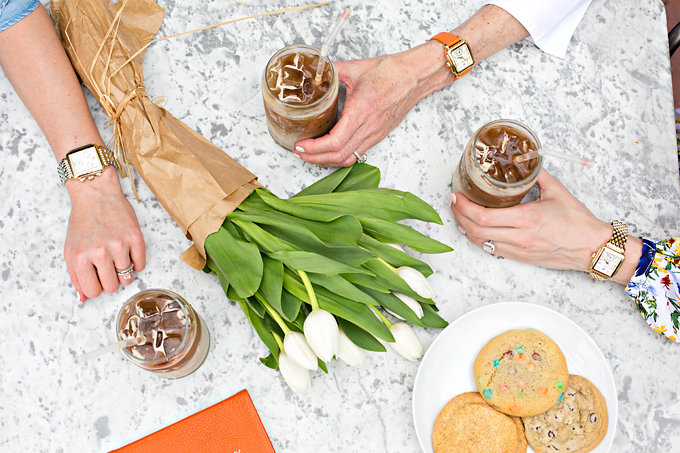 Hope you all didn't have any trouble making it to the middle of the week! We've been working on a fun project that we'll share with you later this week and we have loved having our intern with us (aka Nikki, Jean's niece/Stia and Katherine's cousin!). She has been a big help! As you can probably imagine we've managed to have a little fun too 🙂  More cousins are on the way to us this weekend and we cannot wait to all be together! Also on the agenda; we are super excited to be hosting the Jessica Simpson + Babies "R" Us Fashion Show revealing her new collection of clothes for baby and toddler girls. Believe us when we say they are adorable! Yikes! It's a good thing we have little William or we would be in serious trouble!
The best sales this week are really fun- so many great deals! We found a lot of way discounted summer items and also new items for Fall from the Nordstrom Anniversary Sale! We hope you find some things you love here:
Shop the Best Sales This Week:

Cheers,
Stia, Jean and Katherine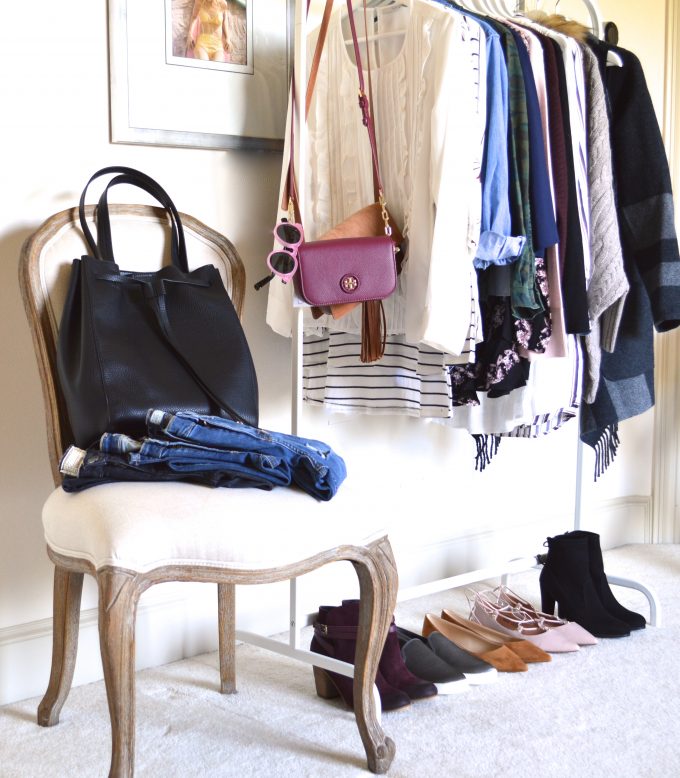 One of the most common things we say is "I have nothing to wear." That is not true at all, but sometimes it seems like it when we have a closet full of pieces that don't really go together. This year, we are trying our hardest to build out a fall (and winter) wardrobe with pieces that can be mixed and matched, providing many looks that will help to solve the "what to wear" dilemma. With fall clothing already in stores  and the Anniversary sale in full force (public access starts today!) we tried our best to build a complete fall wardrobe. Be sure to scroll down because we are giving away four $100 giftcards to Nordstrom!
tops: ruffle blouse|striped lace-up top|colorblock top|floral cold shoulder top|chambray top|print tunic|striped long sleeve top
sweaters: oxblood sweater|grey ruffle sweater|black side slit sweater|blush pink cardigan
outerwear: camo jacket|fur collar sweater|blanket vest|plaid coat
dresses: striped dress|winter white dress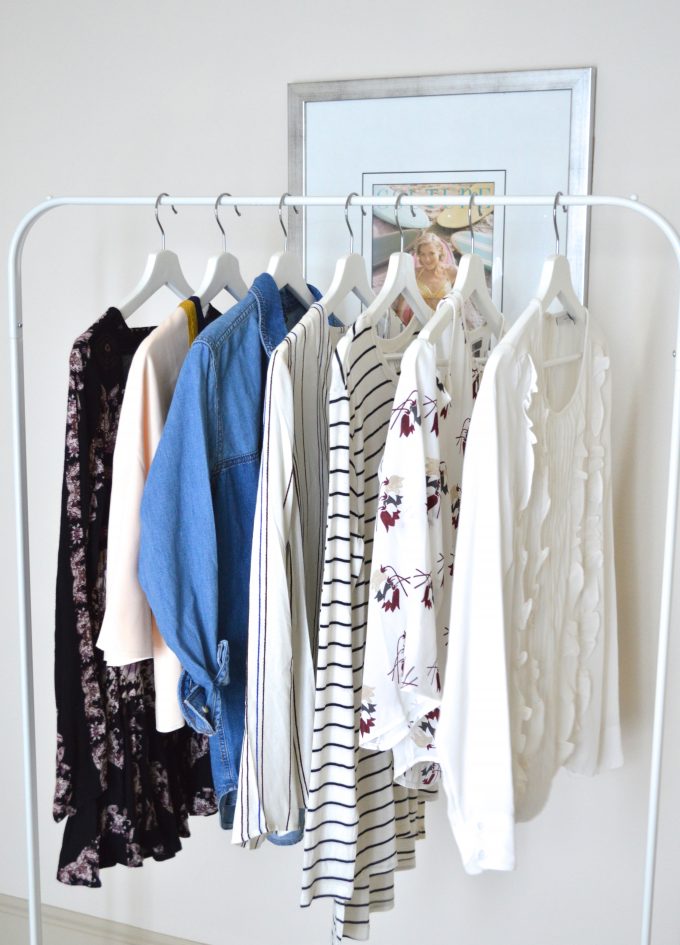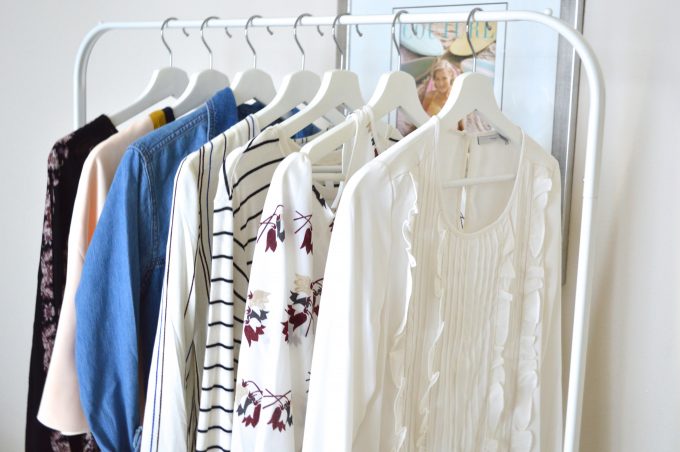 tops: ruffle blouse|striped lace-up top|colorblock top|floral cold shoulder top|chambray top|print tunic|striped long sleeve top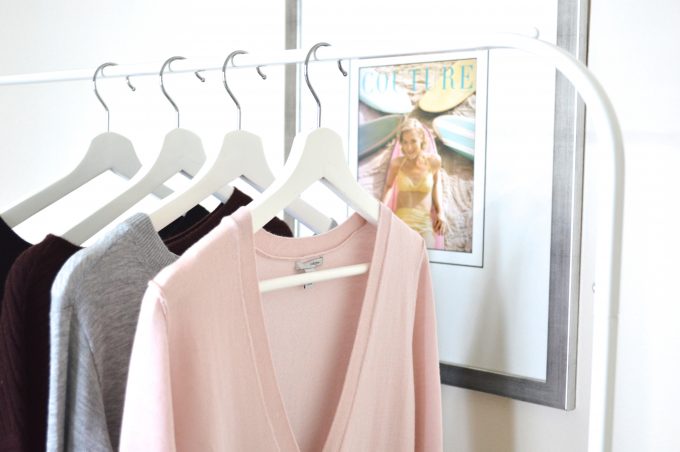 sweaters: oxblood sweater|grey ruffle sweater|black side slit sweater|blush pink cardigan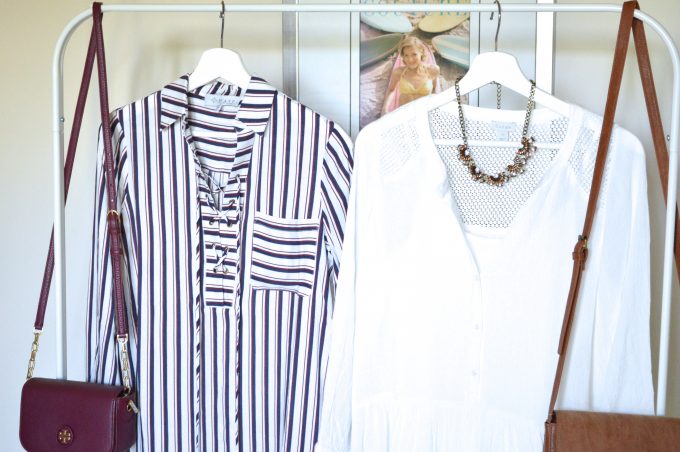 dresses: striped dress|winter white dress
bags: oxblood crossbody|saddle crossbody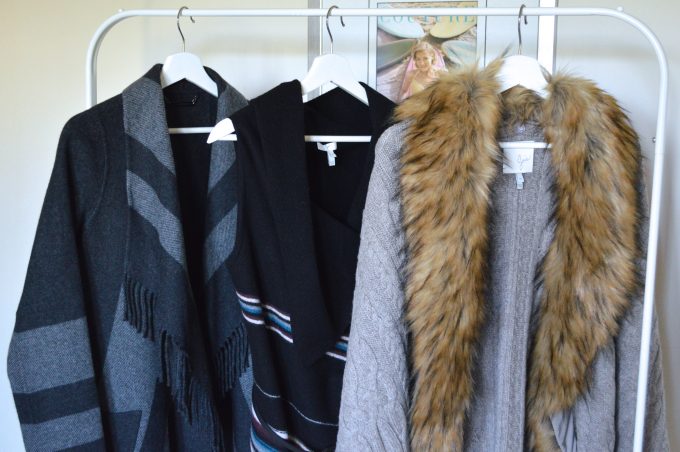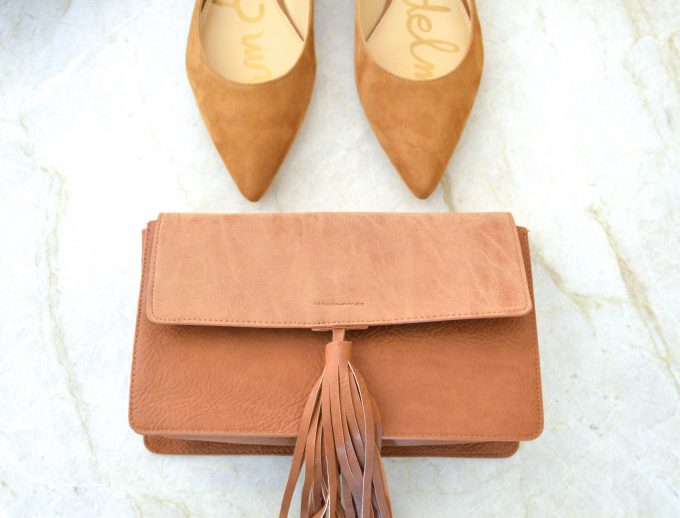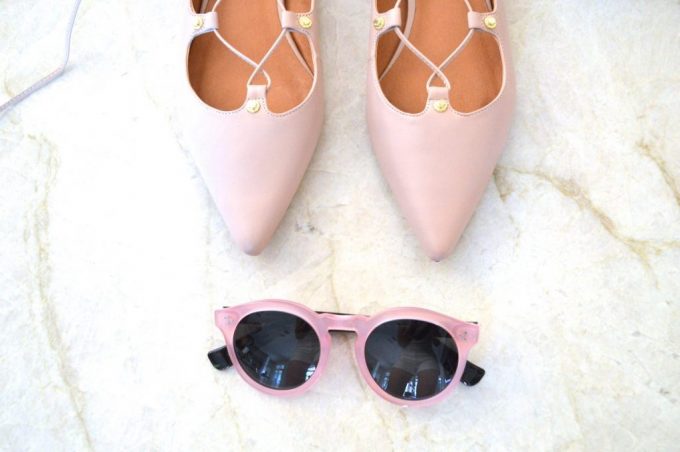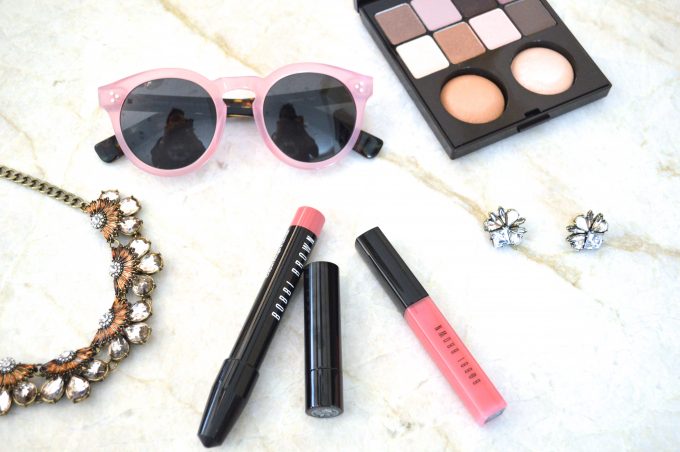 pink sunglasses| statement studs|statement necklace|eye and cheek palette|pink lip set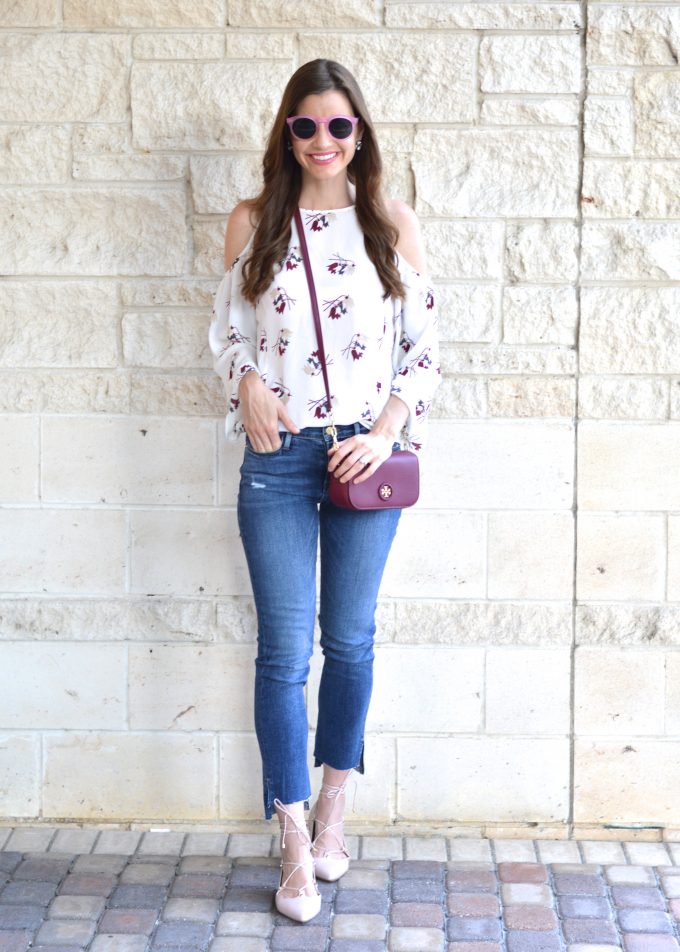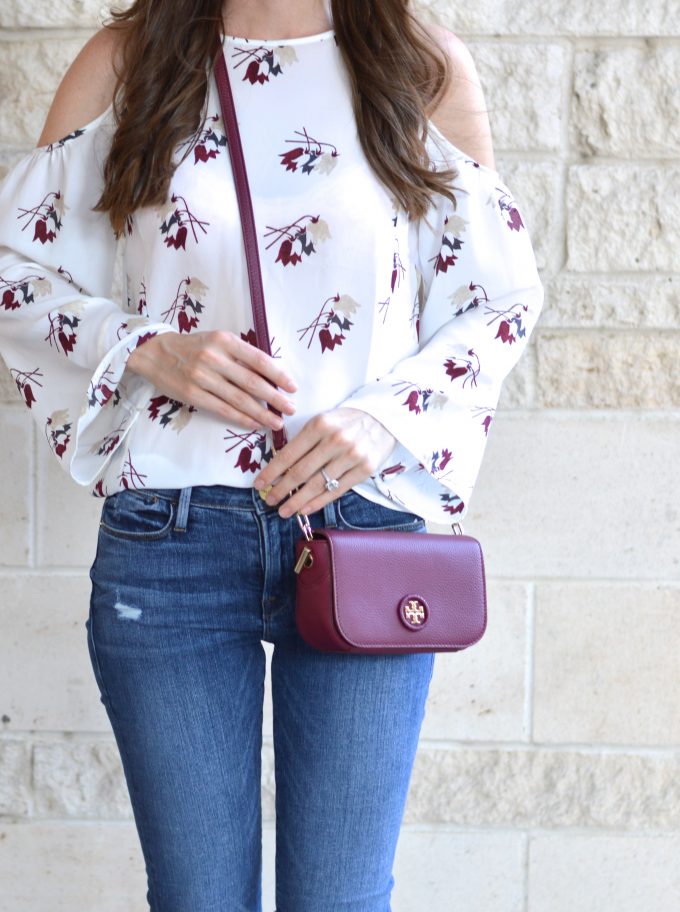 Look One: floral cold shoulder top|cropped jeans|oxblood crossbody|lace up flats|pink sunglasses|statement studs
To mix up it up try: oxblood booties|fur collar sweater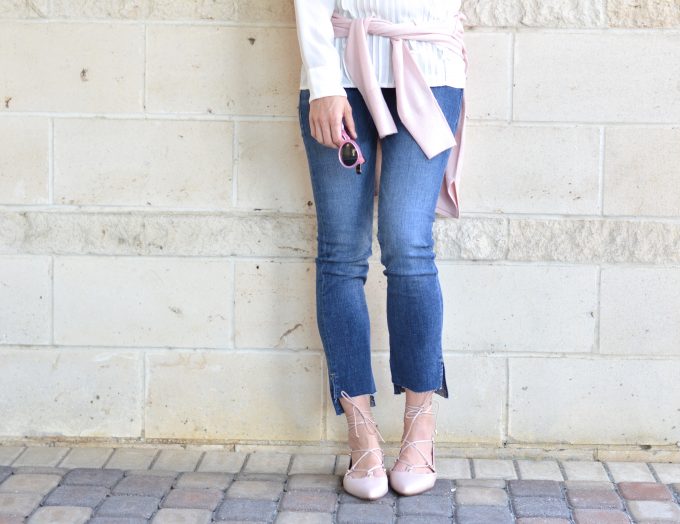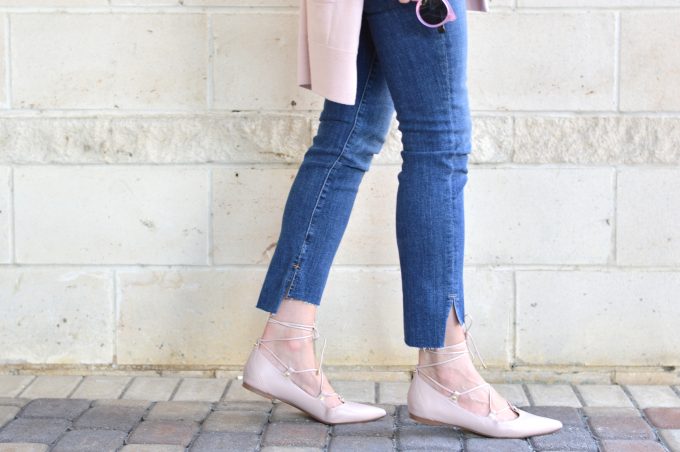 Look Two: ruffle blouse|cropped jeans|lace up flats|blush pink cardigan|pink sunglasses|statement studs
To mix it up try: oxblood booties|oxblood crossbody