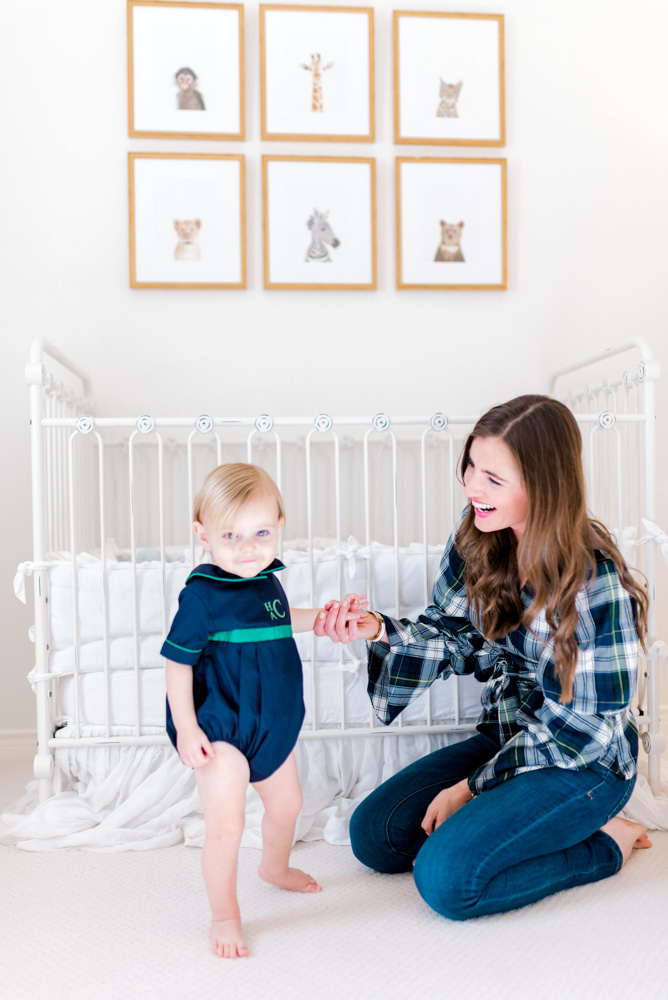 Our little Henry is 15-months old! I could hardly believe that it was time to schedule his 15 month well visit! It seemed like we were just there for his one year appointment, but here we are and he has changed so much in the last three months. I know he's still a baby, but all he wants to do is everything William is doing, which makes it seem like he's much older than he is!
The biggest change from his one year update is that Henry is now full-on walking! Around his first birthday he was taking a few steps, but at 13 months he just started to take off and he hasn't stopped since! We're pretty sure it's because he's trying to keep up with big brother 😉
We love and adore you Henry!
Outfit Details
bubble // plaid top // jeans // giraffe // prints // crib
Weight/Height
Henry is 90% for height and 50% for weight.
Sleeping
Henry is still sleeping through the night, thankfully! We did have a few nights when he would wake up around 5 a.m. crying, but he was cutting his molars. He is back to sleeping around 11-12 hours a night. He takes one nap in his crib in the afternoon and we try to sneak in one cat nap in the car in the morning while we're out and about!
Personality
This little boy has got some major personality! He is sweet as can be and just as sassy, too. He loves to give kisses, hugs and his favorite person to be around is his brother. He is still attached to my hip most days and I love it!
He isn't afraid of anything and climbs on everything. I can't take my eyes off of him for one second or he'll have himself in some peculiar situation! He plays hard and ends up with a new bruise most days! He loves his vacuum and he pushes it around for hours a day (if only it worked as well as our big one!).
He tries to do everything William does and I love watching them interact. We are at that stage where they are truly starting to play with each other and it's so sweet! They make up games and I love to see their relationship start to take off. They play hard and they also fight like brothers ;). Henry loves to run and knock on William's door while he's napping. It's hard trying to keep him out of William's room if he's awake while William is sleeping! They already have plans to share a room when Henry moves out of his crib.
Schedule
We went through a stretch when Henry was waking up earlier than usual, but I'm happy to say that he's back to waking around 7:30 most days. He nurses once in the morning and I usually grab him from his crib and bring him into our room for morning snuggles. William wakes up around 7:45 most days, so we start breakfast then! The boys will play while I pick up from breakfast and try to get ready for the day. We tend to do our activity or errands in the morning and we are usually out the door by ten, unless William has school that day! Henry almost always falls asleep in the car on the way to wherever we are going and then I wake him up when we get there – he doesn't transfer from car seat to stroller very well! We do lunch around 12:30/1 and then they boys typically nap from 2-4ish. Henry has a snack when he wakes up and then we play at the house, go for a walk or the park if it's nice and then try to be home around 5:30 to get ready for dinner. Dinner is usually by 6:30 and then bath and bed by 7:30/8!
Nursing/Eating
This was probably the question I got asked the most on Instagram. I have been slowly weaning Henry since he turned one in September. He was nursing about 5 times around his first birthday and I just started to skip the feeding after naps and offer a snack instead. I did this for about a month, then decided to drop his feeding before his afternoon nap. That left us with him eating once in the morning and once before bed! At the end of November, Caleb and I had a date night and I decided to not nurse him before we left. Since he didn't seem to mind, I decided to try it again and just like that he dropped his night feeding. I will probably wean him completely in the next few weeks, although it makes me sad!
Henry loves solids – he will eat pretty much anything and has no problem letting you know if 1) he's still hungry or 2) he doesn't like what he's eating! His favorite foods are yogurt, blueberries, cheese, beans, and eggs. He also loves blueberry muffins!
Travel
We took a trip to Vegas to celebrate my great-Aunt's 80th birthday. We had the best time and the boys loved relaxing by the pool all day long! Henry continues to be a great traveler and he just goes with the flow. When he gets too tired, we'll take him for a quick stroll and then he's asleep for a few hours!
Milestones
A lot of you had questions on when Henry first started walking. He took steps around a year, but didn't "walk" until closer to 13 months!
Henry went from 8 teeth to 12 teeth – He cut his 1 year molars!
First loss of his "baba": Baba goes with us everywhere, so you can imagine it was pretty traumatic when we lost baba for two days. Henry had dropped it during William's pre-school drop off and we found it in the lost and found a few days later! Now we have a bak-up incase we lose it again.
He is talking so well and saying new words everyday: momma, dada, baba, gigi, brother, nonie, kat, bye bye, night night, uh oh, thank you, please, that, Santa, cracker, yogurt, ned (the name of our stuffed giraffe), neigh, meow, moo, block, book and yes.
Caleb and I had our first night away from Henry at the end of November. The boys stayed with my parents while we attended Caleb's work party. Henry did much better than we anticipated, since he is a full fledge momma's boy!
We also spent a weekend in Charleston to celebrate Katherine's birthday! My MIL and SIL watched the boys all weekend and they said Henry did great. It's always nice to have that first time away under your belt!
Must-Have Baby Items:

Cheers,
Stia, Jean and Katherine
Photographs by Audrie Dollins