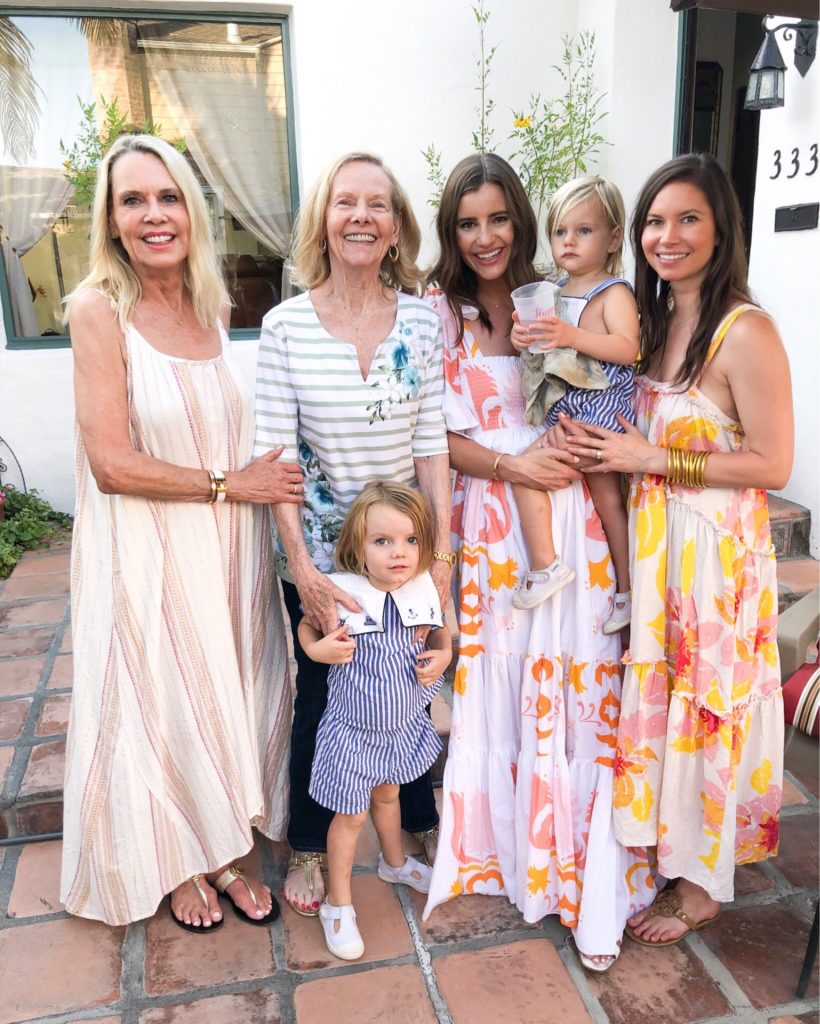 It's been awhile since we have done a Q+A! After asking on Instagram, these are the most frequently asked questions lately. We will plan on doing this again soon!
What is your morning routine with three?
Every morning is different for us. I don't keep any of the boys on a strict schedule, so they are always up at different times. Typically, William wakes up first between 7-7:30. He'll come in my room where I'm usually sleeping or nursing Ford. Ford will go back to sleep and I'll get ready real quick using my five minute makeup routine. Then, we will head to the kitchen for breakfast. William eats while I get Henry's breakfast ready. Henry is usually up around 9 and the baby is up around 10. It's been somewhat manageable thanks to Henry and Ford sleeping in!
What are fall staples you are buying?
Top 3 fave skincare and makeup products?
What were your baby girl names?
It's probably no surprise, but we loved older, more traditional names. Our running list was: Colette, Margaret, Louise, Clare, Frances, etc. Those were the names that we loved from when we found out we were pregnant the first time. All but one are family names.
In desperate need of something to wear for newborn pictures in two weeks. Any ideas?
I tend to go more classic for newborn photos. I wore a white lace dress for William and Ford's and a pretty blue velvet dress for Henry's. Here are some great options: this white lace dress is beautiful, a fun take on a LWD and any of the sleeper dresses are super cute and forgiving post partum!
What is a normal schedule like with three littles?
Things have stayed pretty consistent to our schedule before Ford was born. Like I mentioned earlier, each boy wakes up at different times which helps me be able to get ready in the morning.
7 – 7:30: William wakes up and I get ready while he does puzzles in my bathroom.
8:00: William and I eat breakfast and then play
9:00: Henry wakes up and eats breakfast
10:00: Ford usually wakes up and then we head out for an activity or errands
12:30: Back home for lunch and play
1:30: Older boys go down for nap
4:00: Older boys wake up, snack and play
6:00: Dinner and bath/shower and play
8:00: In bed
I don't keep Ford on an eating schedule, I just nurse him on demand. He's still so new that he sleeps most of the day, but he's typically up 45 minutes between naps. I'm sure we will adjust as Ford's awake times increase, but right now it's been a much easier transition for me than 1-2.
How do you find time to get ready with three kids?
At the moment, I am fortunate that everyone wakes up at differant times. I'll get ready when William wakes up and he does puzzles in my bathroom while I wash my face and get my make-up on.
What is your carpet?
Our carpet is Anderson Tuftex Mar Vista. The color is alpine lace. We are very happy with it!
What does Katherine's fall work wardrobe look like?
I like skirts that I can wear now with heels and later with tights and booties. This floral skirt is perfect for my work this fall.
I read that you are doing bunk beds at Gigi's house. Can you share more about the boys' room at her house? How often do they stay there?
The boys' room at Gigi's is a big room over three garages, so there will be two bunk beds and still a lot of play space. We plan to wallpaper the en suite bathroom and change light fixtures. It's the room Stia had when she graduated from college so it's very feminine at the moment! The boys had been staying over about once week until Ford was born, but now they don't want to leave their baby brother!
Kids snack ideas?
We do a lot of fruit, pouches, peanut butter crackers, yogis and cheese. A lot of times we will have a "snack" lunch – thats Henry's preferred way of eating!
You guys are always at Jose. What do you recommend?​​​​​
Jean: Mexican eggs benedict (minus the hollandaise sauce) and The Usual has become my standard drink order, thanks to Katherine!
Katherine: Salmon y avocado and shrimp cocktail
Stia: La chica salad, queso and signature margarita
What car seats do you have?
I kept my SUV and we have three across in the back seat. The Maxi-Cosi car seats we had before wouldn't work with three car seats across so we ended up getting the Clek Fllo.
Favorite easy dinner?
Jean: Grilled salmon with roasted brussels and sweet potatoes
Katherine: Stir fry is our go-to. We have been loving this kung-pao recipe
Stia: Taco salad is a weekly staple in our house
What trips do you have planned for the Fall/Winter?
Justin and Katherine were just in Scottsdale a few days before meeting the rest of the family in San Diego. We are here celebrating Grammy's 80th birthday! Jean and Bill are heading to Vail for a Fall wedding and then in December, we are taking the boys on their first ski trip – that's all on the calendar for now!
What did you do for car seats in San Diego? Traveling soon and trying to decide whether to bring car seats or not.
Our extended family lives in San Diego, so we don't have to rent a car while we are here. I looked into renting car seats from other companies, but since we are there a week, it was actually cheaper to just order two car seats on Amazon.
When did you move Ford to merlins? Do you recommend?
Ford has always been a pretty good sleeper. He's pretty noisy and still in our room. I remember one night in particular that he was SO noisy. Come to find out, he was trying to get his hands out from the velcro swaddle. I decided to try the Merlin's the next night and he did so much better. It's the earliest I've moved a baby – at 6 weeks – but he is much happier/more comfortable. All my boys have used Merlin's and I definitely recommend using when transitioning out of swaddle.
Where is the backpack of beach toys from?
Here is the boys' sand toy backpack!
Where is your rashguard from?
I bought this striped rash guard for our trip.
Cheers,
Stia, Jean and Katherine