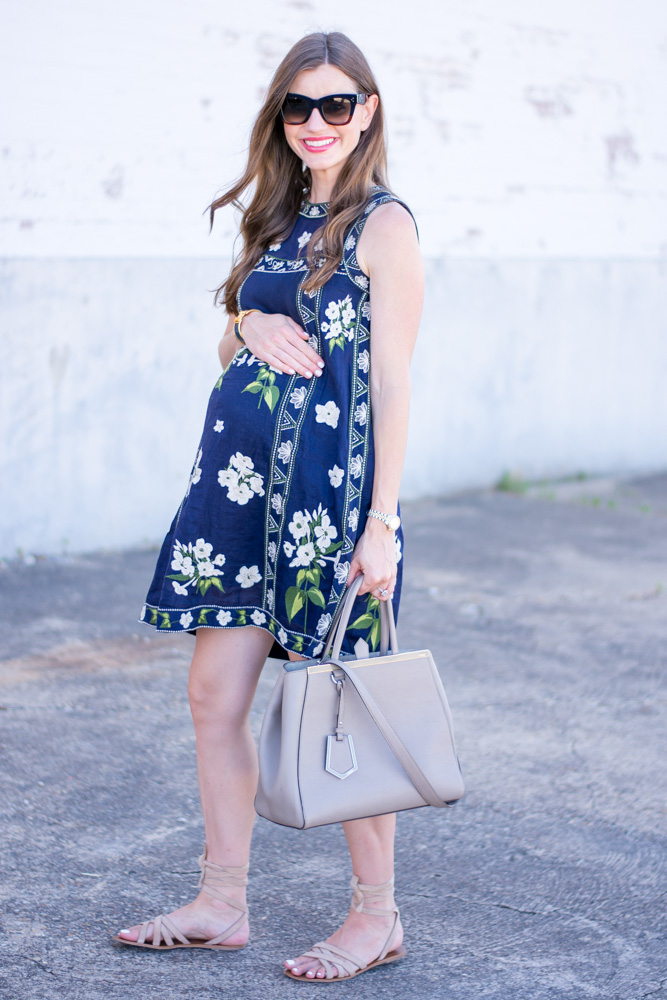 My goodness, I can't believe we are already here! Time is literally flying. I started to see my OB every week and we are seriously in the home stretch. Things started to hit me that our new baby will be here very soon and nesting has officially kicked in. I recruited Caleb and my parents to clean the carpets in our bedrooms, rearrange the nursery and go through all the toys, clothes, blankets etc.  – they were troopers!  I feel like we accomplished so much this weekend, but we still have a lot to do!
dress|tote bag|sandals|sunglasses

HOW FAR ALONG?
34 weeks and three days. Getting close to the end!
HOW ARE YOU FEELING?
Overall – eh. Ha. It's no joke being pregnant in the summer! I'm just thankful that I have the ability to work on the blog from home where the a/c is on full blast. It's H-O-T and I am very pregnant. We live in a three-story townhouse, so the stairs are starting to become a beating, but at least I can count it as random exercise 🙂 All joking aside, I am trying not to dwell on not feeling "great" but knowing there is an end in sight. I try to rest when William naps and then be completely present for him when he's awake. I want to soak up every second with my first baby and the time is going way too fast!

GENDER GUESSES
As we get closer to our due date I am so unsure about what we are having. I told Caleb that if they say "It's a girl" I won't be shocked and if they say "It's a boy" I won't be shocked either! So different than last time. I was SO confident that William was a boy, that I probably would have passed out if they said "It's a girl!" And honestly, I can see us as family of two little boys just as much as I see William loving on and protecting his little sister. I can't wait to share the news with you guys once baby #2 is here! If you're interested.. here is what the  Old Wives Tales are predicting.
NAMES
This is where I wish we knew what we were having. It would be nice to know we either need a boy name or a girl name! We're getting closer on each, but like last time we will most likely head to the hospital with a list of a few boy and girl names and wait until we meet our new baby.


CRAVINGS
When you can't eat the one thing you're craving it makes for not a lot of fun! I'm ready to veg out on a pint of Talenti ice cream 🙂
GESTATIONAL DIABETES
I am still controlling gestational diabetes through my diet. The diet is based around limiting carbs and getting enough protein/veggies. Thankfully, it's well controlled!


WEIGHT GAIN
So far I've gained 14 pounds. The slow weight gain over the last month was due to counting carbs and eliminating sugar. I remember this happening when I was pregnant with William, too. I'm trying to add in a few more snacks throughout the day to help get more calories, while also making sure they fit within the gestational diabetes diet.
MATERNITY CLOTHES
I am working on a post that will highlight my favorite maternity items, but here are a few favorite outfits so far: this white off the shoulder dress, this red striped maxi dress and this white dress. I will say its easier to get away with wearing non-maternity in the summer by wearing loose, breezy dresses.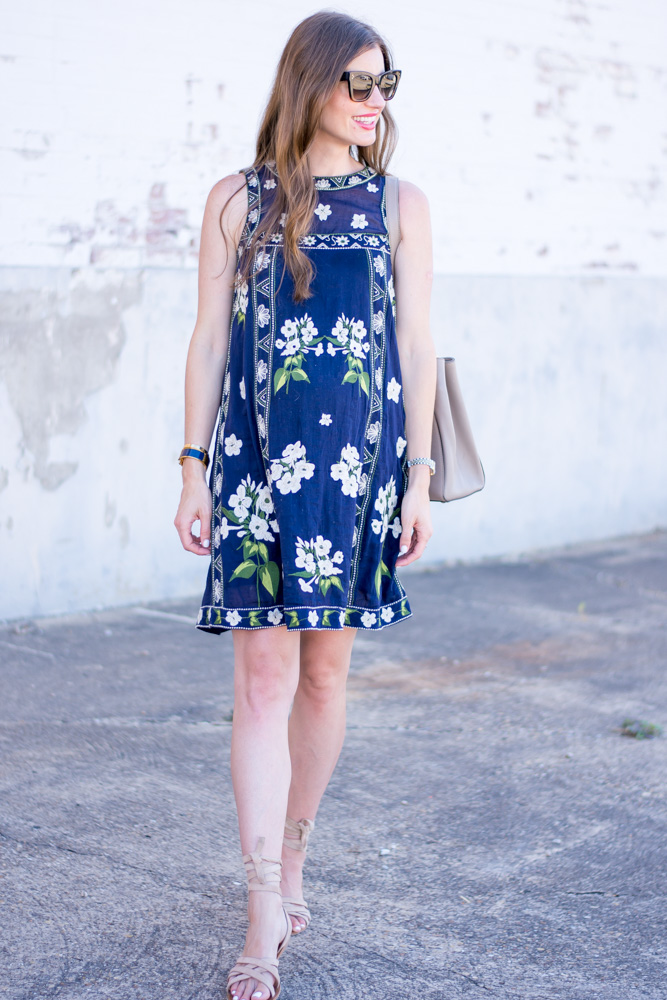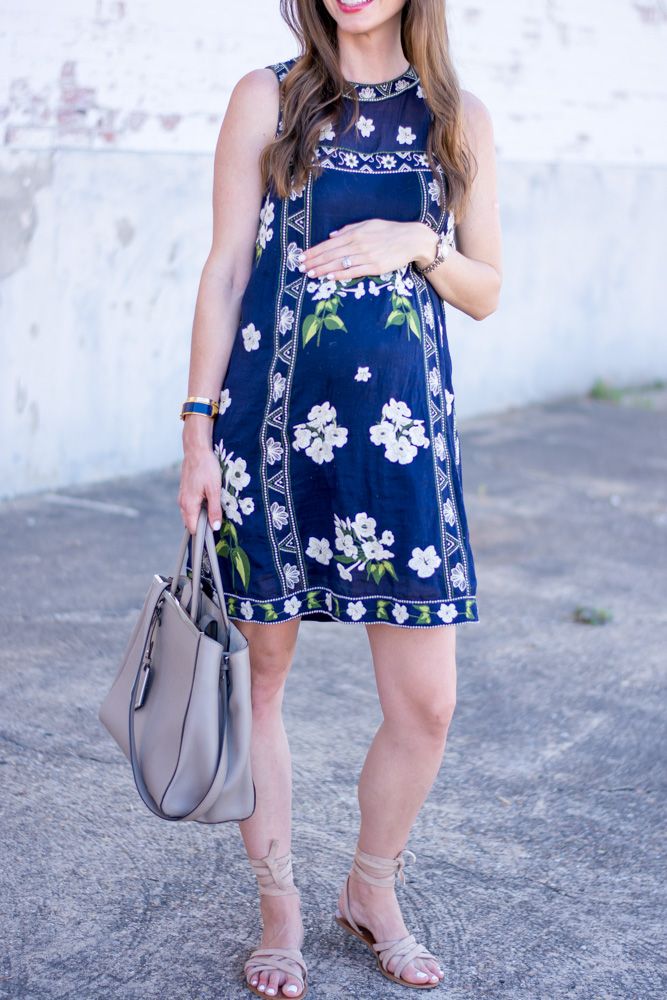 EXERCISE
I am still keeping up with Flywheel classes and plan to continue as long as I can. Because exercise is so important in controlling gestational diabetes I am making a point to make at least two classes a week. It may not seem like a lofty goal, but I am just glad that I have been able to keep up with it from the beginning of the year when I found out I was pregnant.
SLEEP
Sleep has been good! I haven't started getting up for those middle of the night bathroom breaks yet,so I'm feeling pretty rested when I wake up in the morning.
SIGNS OF LABOR
Lots of braxton hicks contractions, which is new to me! I didn't feel them at all when I was pregnant with William, but I guess once your body has gone through pregnancy and labor once, it all comes more natural the second time around.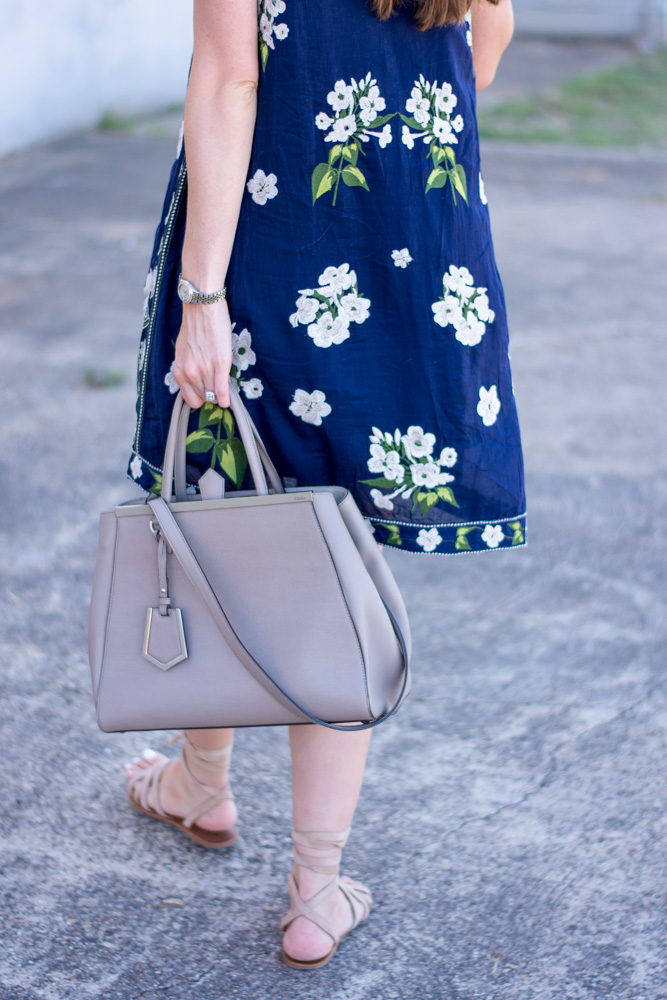 Thanks for reading and for all of your love and support since first sharing I was pregnant in March! xoxo
dress|tote bag|sandals|sunglasses
Cheers,
Stia, Jean and Katherine