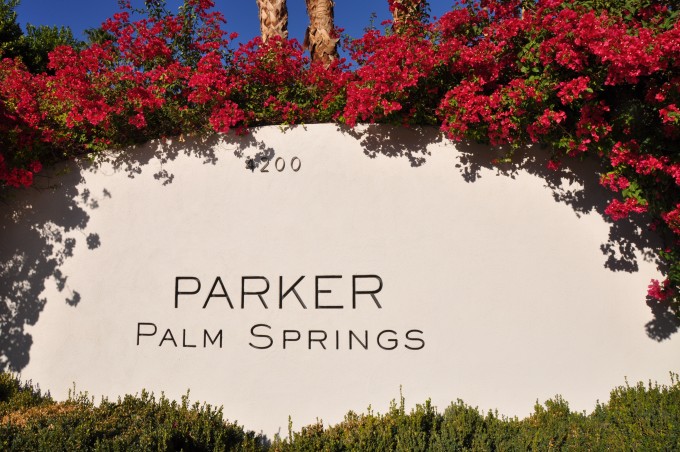 Over the weekend, we spent some time at the legendary resort, The Parker Palm Springs.  This oasis of a hotel is hidden away behind tall hedges and has a decidedly laid-back vibe. It's a favorite of celebrities, because of its privacy & peaceful atmosphere, and its great style. We loved the Jonathan Adler designed spaces – very funky & fun! We started our day at the Palm Springs Yacht Club (the on property  spa).  The PSYC is done in a nautical theme with a tongue-in-cheek twist.  We were greeted at the desk with the PSYC signature shot (cucumber vodka) to help us relax before our treatment.  That's never happened before! The Scuttlebutt is the new nail salon in the spa and is metallic silver and white, with hot pink pops of color. So cool/cute, and girly! We had our manis done in the exclusive Ten Over Ten polishes – Mulberry for Jean & Palm Springs for Stia -of course! We loved it.
Next up was the property's very popular diner, Norma's,  for their famous brunch. We sat outside on the patio and enjoyed some great people watching. We started our meal with complimentary smoothie shots – so California!  With so many options on the menu, it was hard to decide on just one. Thank you, Gigi, for your great recommendations! Everything was delicious.
Time for a walk around the 13-acre estate to wear off all that food. There are plenty of options when it comes to play time at The Parker; two pools, red clay tennis courts, pétanque & lawn croquet courts. All of these activities are located in different areas on the property, so there's always a place to go for privacy. There's also a giant outdoor chess board and sand table-tennis. The paths through the resort are all unpaved, sandy trails, making for a very quiet stroll.  Tall palm trees and beautiful bougainvillea are everywhere. The Parker is the perfect place for a weekend getaway.  We can't wait to return for a longer stay!
Palm Springs Yacht Club- the on property spa
Scuttlebutt Nail Salon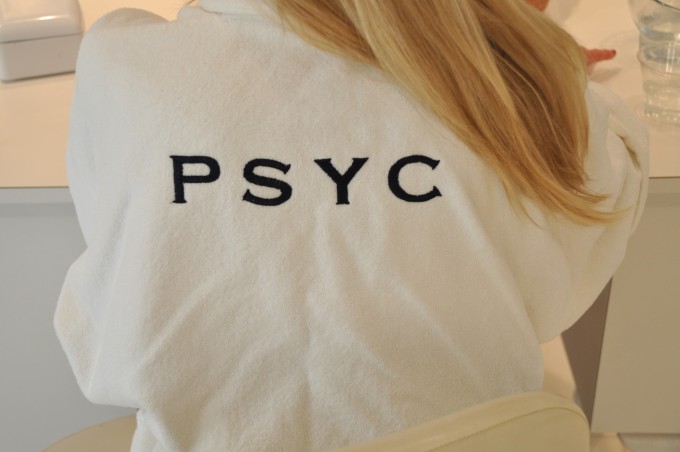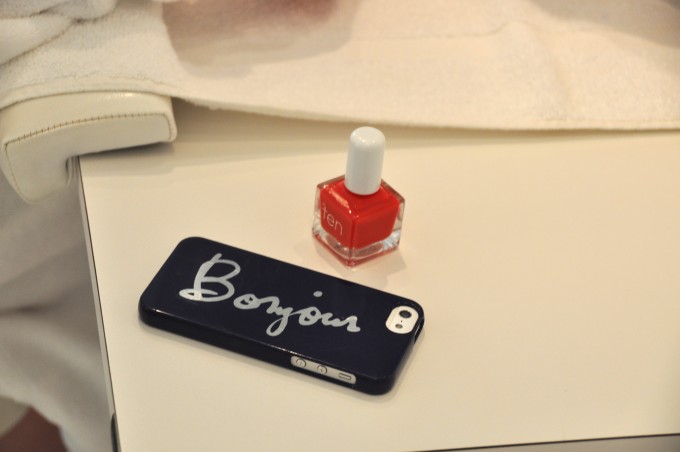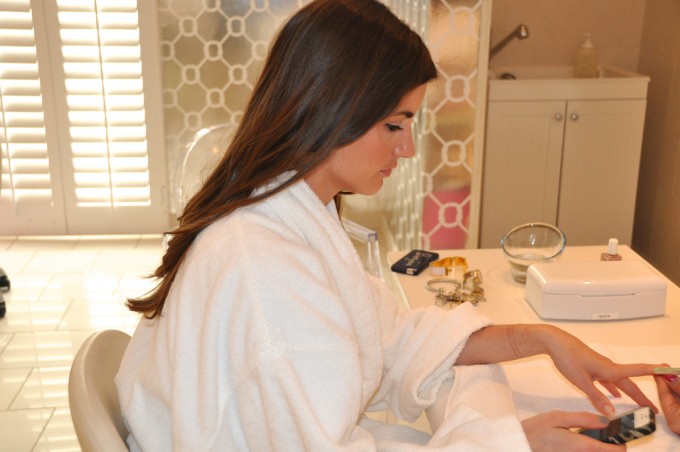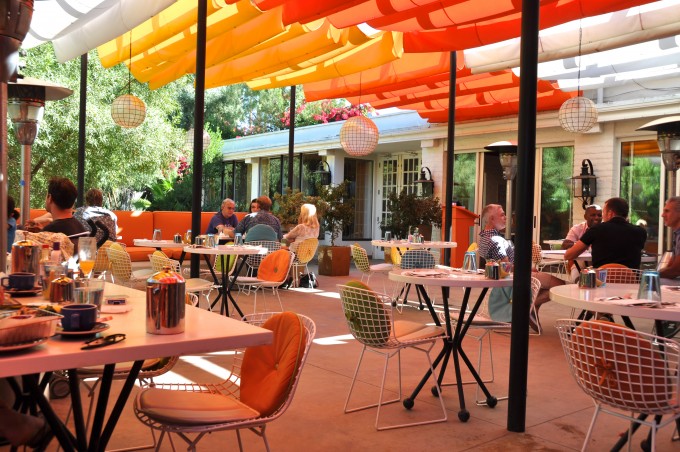 Brunch at Norma's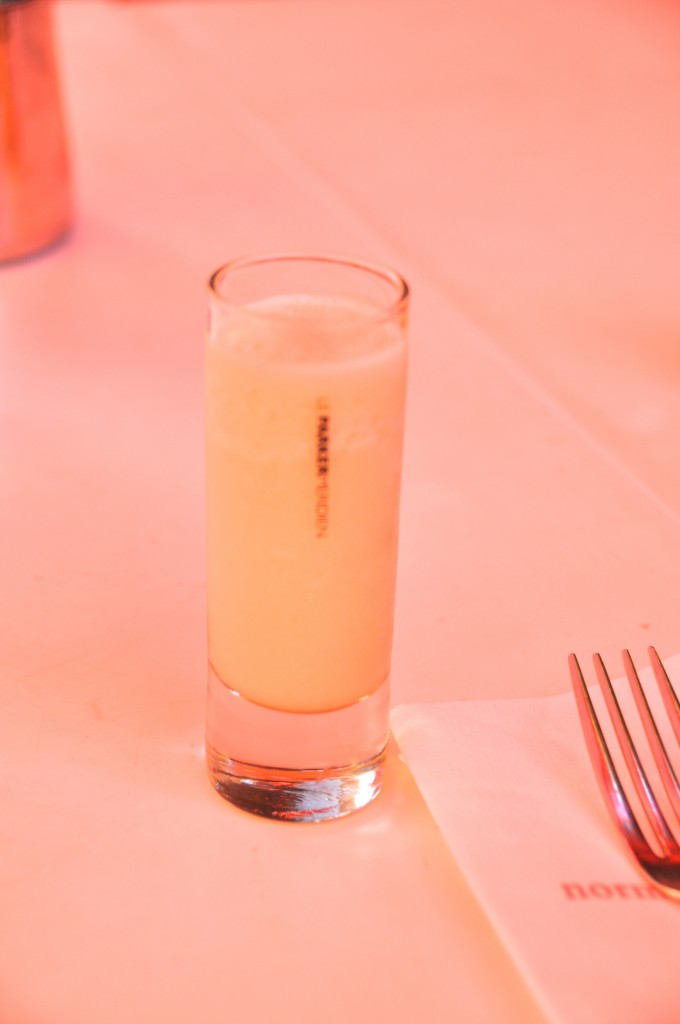 Smoothie shot
 Fish Tacos at Norma's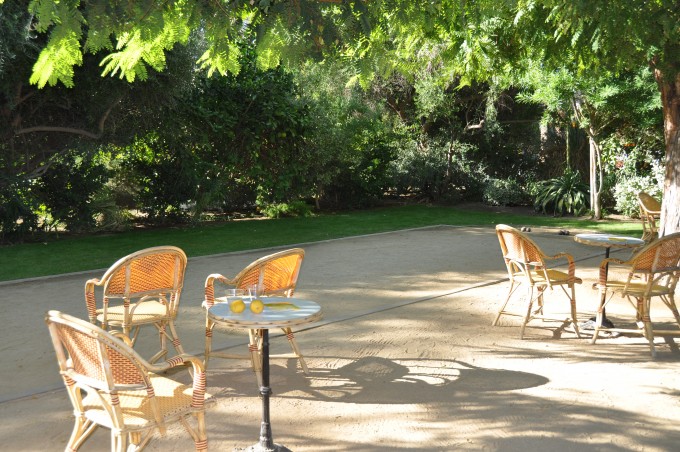 Pétanque courts
Cheers,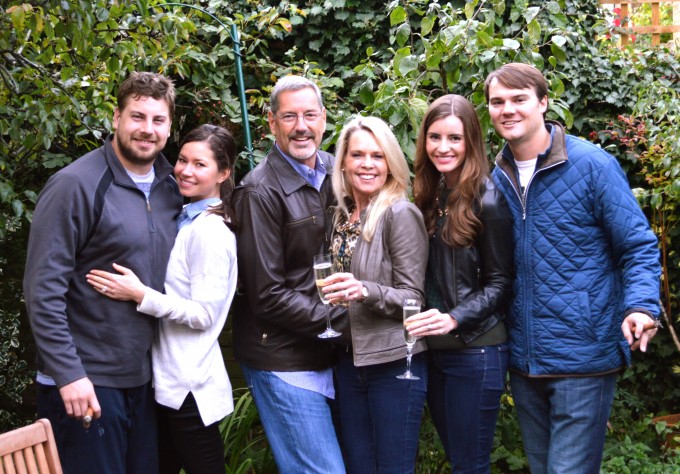 Happy Halloween! What are your plans for the spooky holiday? We plan to hand out candy & possibly dress up!
Today marks the last post from our two-week European adventure.  We ended the trip with a long weekend in London with our family.  Thursday we started out without missing a beat.  We had places to go and very little time left!  Our first stop was taking the tube to Kensington High Street.  Our destination was The Roof Gardens and Babylon Restaurant, which are located one hundred feet above Kensington High Street and are part of Sir Richard Branson's portfolio.  This hidden treasure is truly spectacular.  While we were visiting, they were setting up for an event and we couldn't help but think it would be the perfect setting to throw an elaborate party!  Next stop was a pub stop (It had been way too long since the last one.)  We found ourselves at the wonderful Scarsdale Tavern right in the heart of posh Kensington.  Our pub stop ended up being longer than we had planned, as we were caught in the middle of a complete downpour.  No one was complaining though – time for one more round!  After our afternoon break, we hopped on the bus to Harrods.  My goodness, we could have spent days and days at Harrods.  The shopping, the food, the people watching- it was the perfect afternoon.  After Harrods, we took another bus back to Putney where we were greeted with the lovely aroma of Coq au vin, which helped immensely with our post-Paris-blues!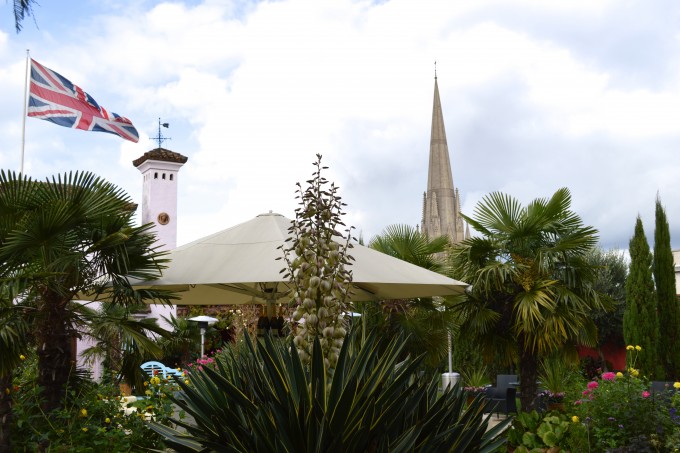 Rooftop Gardens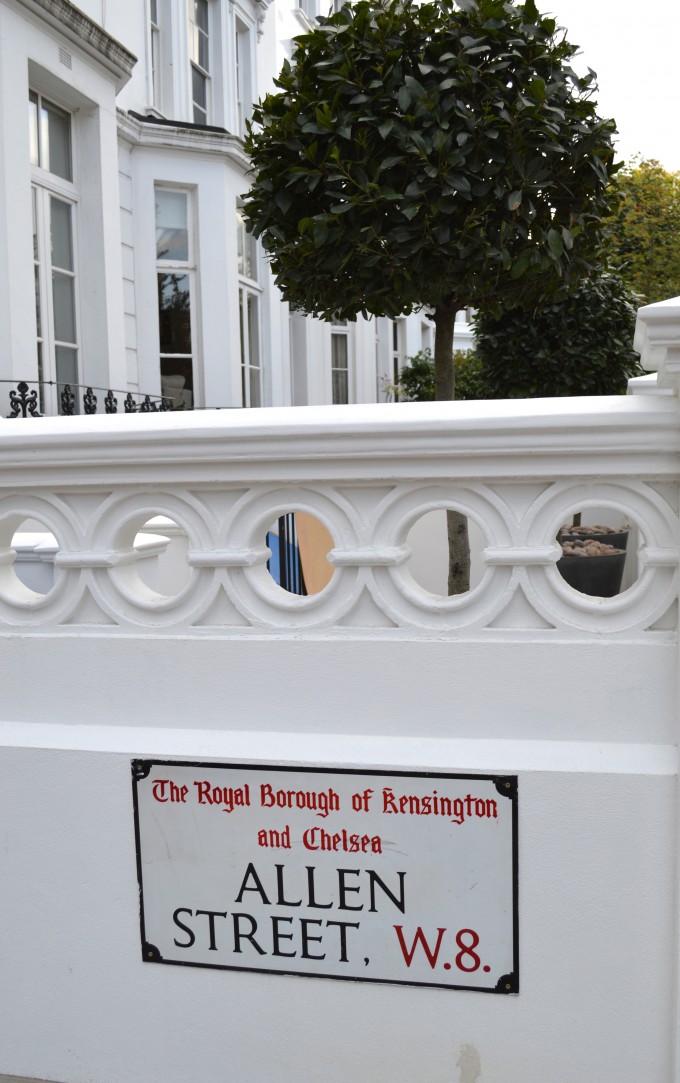 Walking in South Kensington
Pub stop: Scarsdale Tavern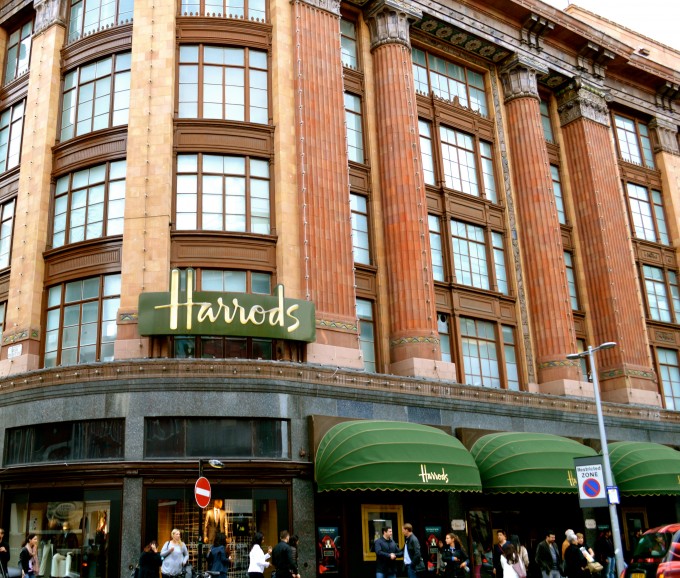 Harrods
On Friday, we realized our trip was almost over.  A few of us decided to head to  the All England Lawn Tennis Club to experience the famous Wimbledon grounds.  The Championships have been held there since 1877.  A few years ago we had the opportunity to be at Wimbledon during The Championships (where we fell in love Rafael Nadal!) and after this visit, we are already plotting a summer trip to the tournament.  After a tour and a stop at Centre Court, we headed to Notting Hill for a delicious lunch on the go from Le Pain Quotidien and an afternoon spent at the Portobello Market.  We loved all the unique vendors and interesting shops.  From Notting Hill, we took the bus to fabulous Sloane Street in Chelsea for some final shopping.  The last place on our list was a visit to Imperial College where a few of us studied abroad for the summer.  Had to grab a Snake Bite at the College pub before our trip ended!  That evening we were treated to yet another wonderful dinner consisting of a very traditional English dish: Fish & Chips.  PC  does the perfect Fish & Chips, complete with English peas. Yum!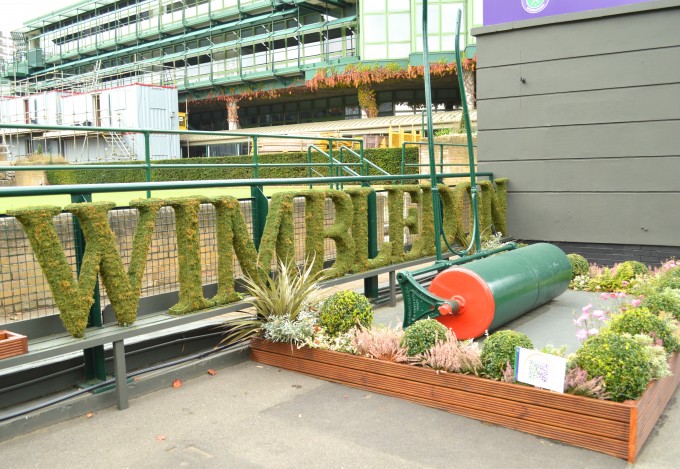 Wimbledon
Centre Court at Wimbledon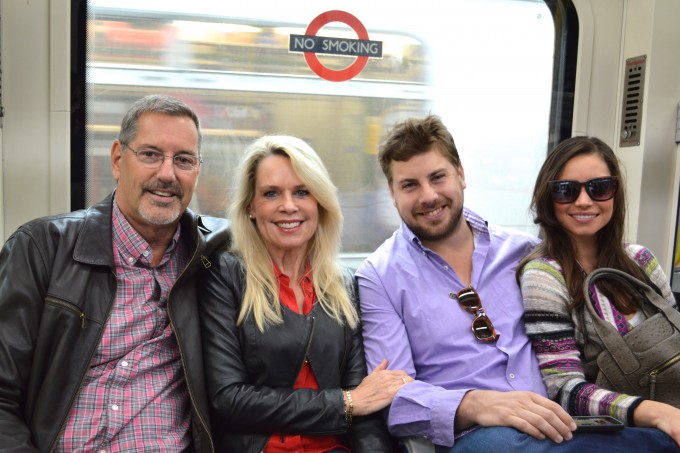 Tube to Notting Hill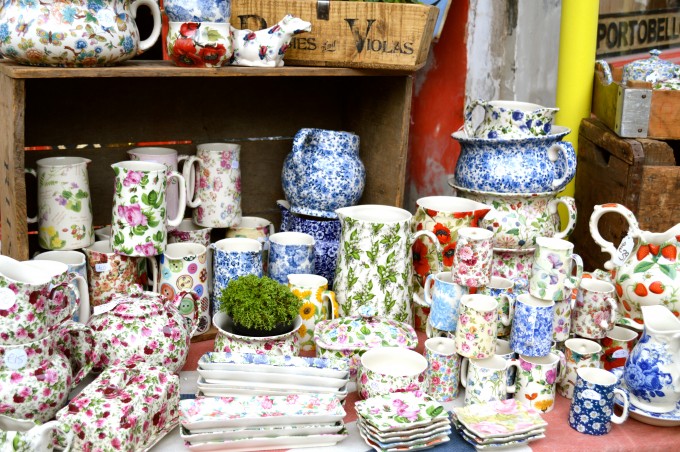 Portobello Market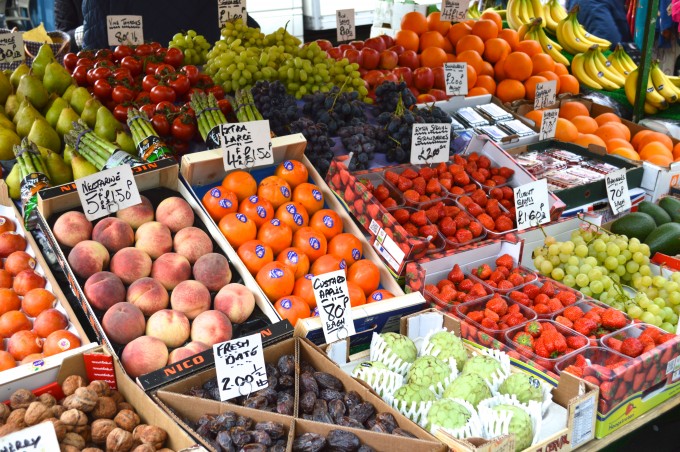 Portobello Market
Saturday, our final day in London, was spent relaxing with our family in Putney. We spent a good part of  the day in the kitchen helping to prepare dinner – Spiced Slow-Cooked Lamb Shank. It was nice to be back in the kitchen after so long! We spent the day enjoying each other's company,  the guys had cigars in the rain in the garden, and even did some pear picking. Two weeks flew by, but between seeing London and spending precious time with our family there, to having the experience of living in Paris for  a week,  we can't imagine how we could have had more fun!!  On to the next adventure…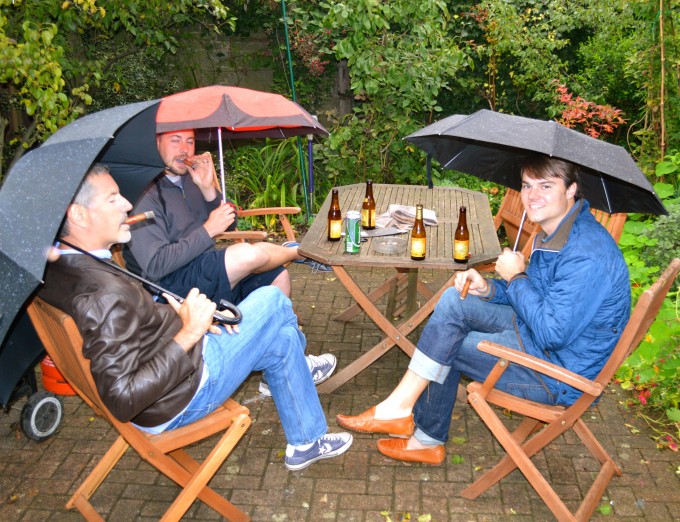 Cigars in the rain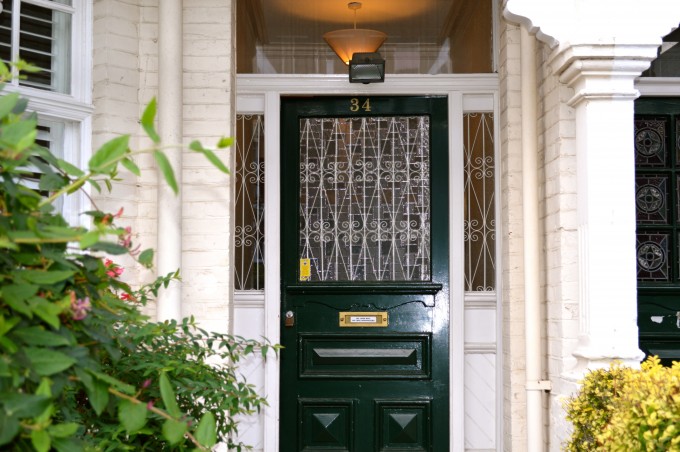 Until next time Flat 1
Cheers,