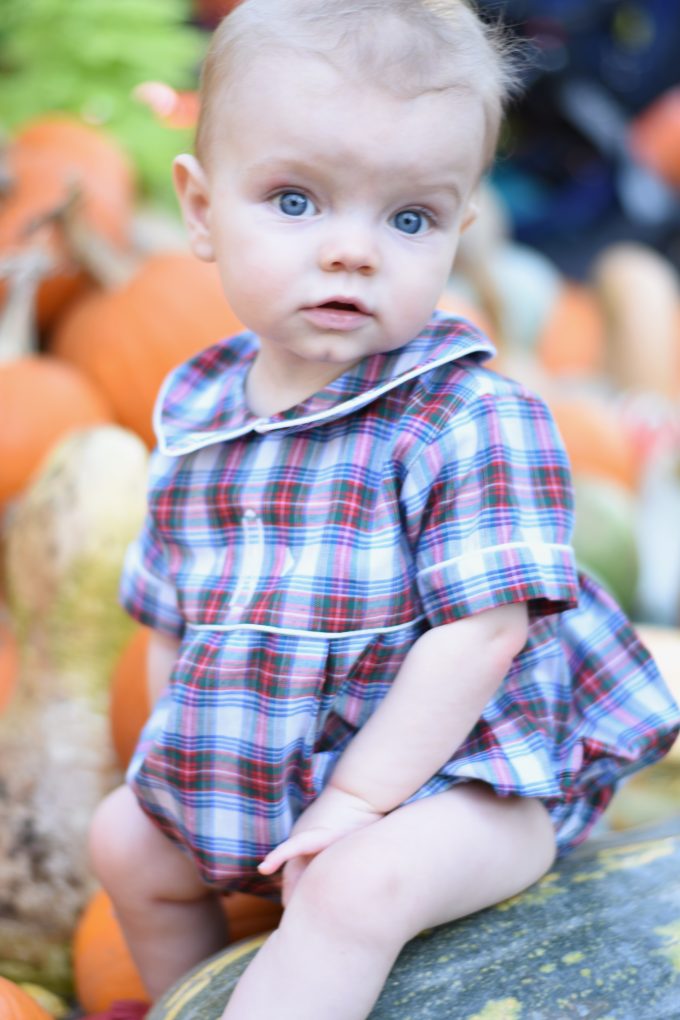 Recently, we made a trip to the Pumpkin Patch at the Dallas Arboretum. It seemed like the perfect place to take William's pictures for his nine month baby update. We had the absolute best time. There were pumpkins everywhere, even little houses made with pumpkins. He loved seeing all of the pumpkins and he had his first taste of dirt- yuck! He is all boy 🙂 It was so much fun and such a fun place to spend the day that we bought an annual family membership, so we can go back whenever we like.
It is so hard to believe that my baby is 9-months old. As usual, the time seems to fly by and go slow all at the same time. I think each month gets more and more fun, but also more exhausting! When William is awake, he is busy. Like, he wakes up and doesn't stop until nap time. I love his energy and seeing his excitement for all things. He talks to everything he sees- but especially our Nest thermostat, the washer and dryer and he is obsessed with crawling over to and playing with the door stopper. When we are on walks, he reaches to touch every plant and loves to play in the dirt. Plus, he greets most everyone with a squeal and the cutest smile. He continues to be the biggest flirt, and has recently started to snuggle with me more and more. My favorite thing he is doing now? Giving big, slobbery kisses! With all the good and bad that comes with parenting (we had a little scare at the doctor- everything is fine now), it made me realize how much I am not in control and how much I need to rely on God through this journey called parenthood!
Height/Weight: William is long and lean and continues to trend that way.
Sleeping: After what seemed like a horrible sleep regression, we made some progress! William was waking 2-3x a night and I hit the point of pure exhaustion. We ended up deciding to do sleep training, something I said I would never do, but it worked and it worked fast. The first night was rough. I probably cried more than William, but he has continued to sleep well until recently when he had three teeth come through! If you have any questions about what sleep training we did, feel free to email me at hello@bishopandholland.com. Also, we shared William's bedtime routine last week!
Nursing: I am still nursing William frequently throughout the day. Because we never had a set "eating" schedule and I just fed him on demand, a lot of that is comfort nursing! Nursing continues to work for us and I haven't really thought about weaning yet. Especially because it is such a comfort to William while he is enduring teething.
Solids: William loves trying and eating solids. Right now, he is eating solids in the morning and for dinner, about an hour after I nurse him. He is still eating a mix between purees and bite-sized foods. His favorites are carrots, bananas, peaches, eggs, avocados and spinach but he will literally eat anything! Our pediatrician would like to see William gain a little more weight, so now we will be adding in lunch and snacks when needed, in addition to breakfast and dinner. Also, he just learned how to take off his bib, so the messy eater just got messier!
Personality: William is the smiliest, happiest baby. Don't get me wrong, he cries but its usually only when he is overtired or suddenly realizes he is hungry. He wakes up with a smile on his face and is ready to get going as soon as he eats. We walk Caleb to work and then go for a walk around the neighborhood because he absolutely loves being outside. Now that the weather is nice, we go to the park a lot and he loves swinging and watching the big kids play. He has mastered army crawling, starting to pull up and sitting like a champ. He babbles all day long, but we are still waiting to hear mama and dada! I've talked about it before, but he is the biggest flirt. I have women come up to me at Whole Foods saying that he makes their day because of his big smiles. William is such a joy to be around and I love watching his personality grow more and more everyday.
Schedule: Our schedule differs every day, but it always revolves around a morning nap three hours after William wakes up and an afternoon nap three hours after William wakes up from his morning nap. I am so lucky in that I can typically count on two, two hour naps every day! We also follow the same bedtime routine every evening.
Teeth: Four teeth are in and it looks like one more just cut through last night
Travel: William is still a great traveler. Since our last update he has been to San Diego (again), New York for Fashion Week and we tagged along on Caleb's business trip to Helsinki, Finland. We also took our first road trip down to San Antonio for a stay at La Cantera Resort. William does great on planes and in the car, thankfully! See our Tips for Traveling with a Baby and Tips for Traveling with an Older Baby for more about traveling with your baby. We have two more trips planned in November, and then we are planning to be home the rest of the year!
|william's birth story|william's three month baby update|william's six month baby update|
Cheers,
Stia, Jean and Katherine