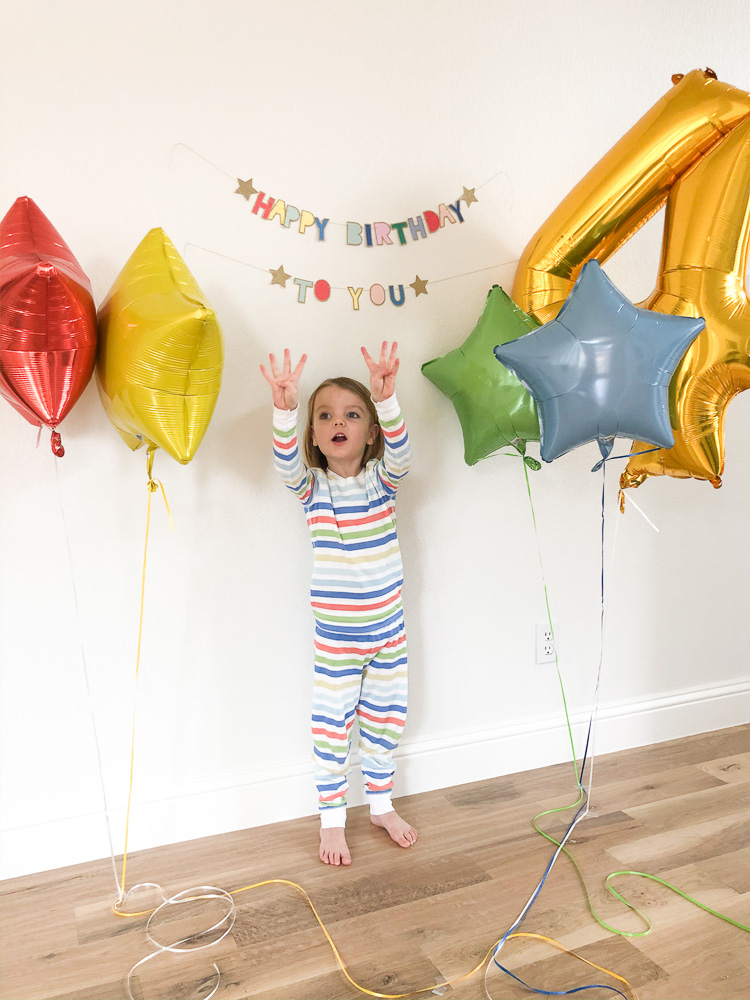 Happy 4th Birthday William!! I can't believe my baby is four. We have been celebrating all week long and have more celebrating to do with our extended families this weekend. William wants to go bowling and then we are coming back to our house for a small party with our families. He is so into his birthday this year and I just love seeing the joy on his face for the special birthday surprises we've had for him.
I thought two to three years old was a big jump, but whoa, three to four years old and he's a little boy! Happy Birthday William!
birth story // nursery // 3 months // 6 months // 9 months // one year // party animal party // 15 months old // 18 months old // two years old // airplane birthday party // 2.5 years old
You can get William's striped pajamas here.
Height/Weight
I will update this after we go to the pediatrician tomorrow!
Sleeping
He is still napping (thankfully!) and will take a two hour nap every day. Now that he's getting older, he is staying up later. He is typically in bed around 8/8:30 and sleeps until 7/7:30. He is our early riser and I wake up to him every morning in our room! He goes through phases of waking up in the middle of the night and coming into our room, but when this happens we just put him right back down in his bed.
Personality
He truly is turning into a little boy! And I am so not ready for it – except that I love the conversations we have, hearing him think out loud and watching him grow up. Motherhood is so bittersweet!
William is my rule follower, never wants to be in trouble, typical oldest child. He loves his brothers and is already looking out for them. He is kind and thoughtful and gifts are definitley his love language- receiving and giving!
One of William's favorite activities is doing jigsaw puzzles – he can sit and finish 200 piece puzzles in no time at all. It's so impressive. He loves to read books together and is starting to pick out words on the page. He also loves marble mazes, anything to do with trains, cars, airplanes, etc. and he could be building things for hours! We say he's going to be an engineer because he is obsessed with how things are put together, how they work and wants to take everything apart and put it back together.
Eating
He is a creature of habit with eating. Most mornings he has almond butter toast with bananas, for lunch he usually has a sandwich with fruit and for dinner he eats whatever we're having. His favorite things to eat are fish, taco meat, mango, yogis, pretzels, apples, string cheese, frozen peas and carrots. He also has a huge sweet tooth, which we try to keep to a minimum. We have officially entered the stage where he loves something one day and hates it the next!
Schedule
He's up around 7:30 most mornings and goes down for a nap around 2 pm. He usually wakes up at 4ish and helps me get dinner going and has play time. In bed around 8 to read, say prayers and snuggle and he's usually asleep by 8:30 or 9. He's the master procrastinator for going to bed at night.
Activities
Right now, William goes to pre-school two days a week. He loves school and loves his friends and it's been the best experience for us. This summer he took swimming lessons for the summer months and it's amazing how he can swim now. We'll start swim lessons again when it gets warmer.
For now, pre-school is our only "commitment." We have gone back and forth between starting sports, etc., but so soon he'll be full on in school/sports, so we're just waiting for him to tell us he's ready! He loves tennis, so we may start tennis lessons this spring.
Clothing
We live in these polos and shorts in the spring. So soft and still cute for the older boys. Plus, matching options for the younger brothers. These are some of my favorite short sets – they look nice, but they also wear so well. For cooler weather, he wears this coat and these long sleeve polos and sweatshirts are great playtime options. He loves wearing his Chus and Hunter boots whenever the weather calls for them and his favorite pjs for sleeping and lazy mornings. He still lets me pick out his clothes, so I'm going with it for however long he'll let me!!
Must Have Items for Four Year Olds:
Cheers,
Stia, Jean and Katherine