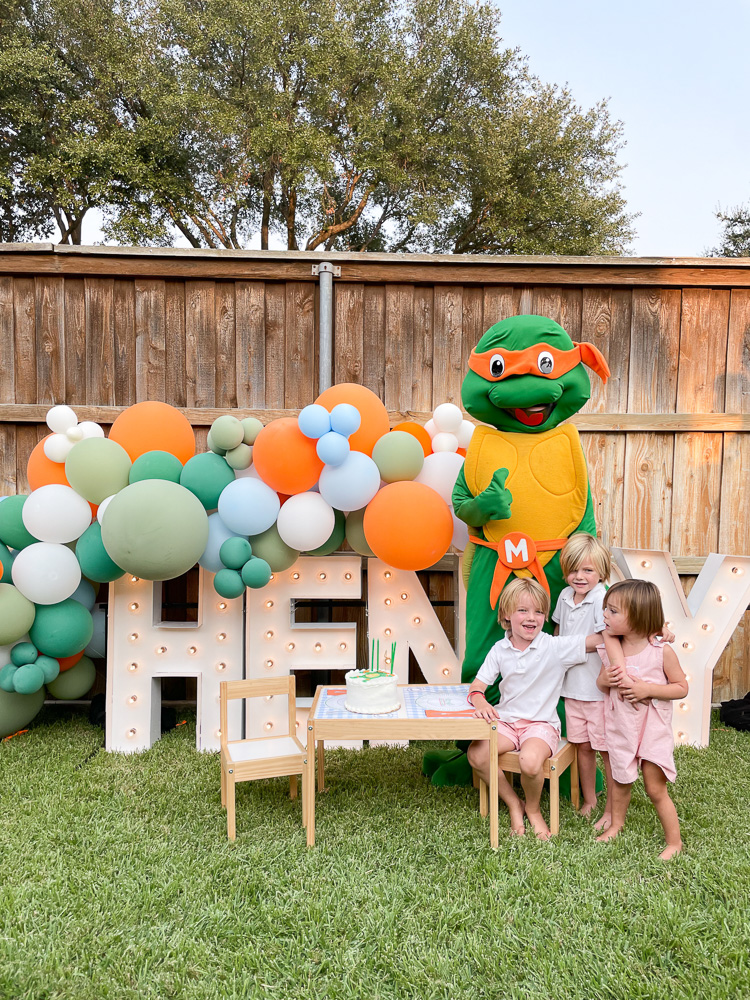 Our Henry is 4 and he is loving it. We've seen him grow up and reach a new level of maturity right before our very eyes. He is so much fun, always up for playing or cuddling, making us laugh and coming up with the best make believe games.
We celebrated him over the weekend with a Teenage Mutant Ninja Turtle birthday party and he had the best time. I'll share more next week with all the details from his party! Happy Birthday Henry – we love you SO much!
PS: Henry's three year update, two year update, 18 month update, 15 month update, 12 month update, 9 month update, 6 month update and 3 month update.​​​​​​​​​​​​​​
PPS: Here is his third birthday, second birthday party, first birthday party, sip & see, baby dedication and birth story.
Height/Weight
At Henry's four year check up, he measured 75% for height (41.5 inches) and 50% for weight (35 pounds).
Personality
Henry continues to be very strong-willed and independent. He has really started to do everything on his own. He has the best sense of humor and is always making us laugh. He's very competitive, loves babies and caring for his little brother. Henry looks up to William so much and wants to do whatever William is doing.
Henry has really started being interested in what he's going to wear for the day and wants to put his own outfits together. He has very strong opinions about his wardrobe! He's able to get himself fully dressed and loves the independence of doing so. He's a mama's boy and likes being at home just hanging out playing. His imagination is incredible and I love watching him busy at make believe and imaginary play. His vocabulary is amazing and expanding every day. We are always so surprised to hear the words that he uses to communicate!
He is so into music and we have a playlist just for him. He's always singing and dancing in the car. That's actually where his love for Teenage Mutant Ninja Turtles came from – he heard the song and became obsessed!
Eating
His tastes haven't changed much in a year! He still loves almond butter toast, yogurt, and spaghetti. He is becoming more adventorous in trying new foods and I love that about him! He either likes it or doesn't and he knows fairly quickly! He loves helping me make smoothies in the mornings and is such a good helper in the kitchen too. He also has a very big sweet tooth 🙂
Schedule
He and William share a room and they are both waking up fairly early, around 6:45, so William can get ready for school. We eat lunch around 12 and then bed at 7:30. Henry dropped his nap in January, so he goes to bed earlier now.
Activities
Henry is in his third year at pre-school. He's going two times a week and he loves it. We did swim lessons at the beginning of the summer and he has become such a good swimmer- he never wants to get out of the water! He and William are currently taking a karate class together and having so much fun. He is starting to express interest in soccer, so we may get him on a team in the Spring.
Must-Have Items For Four Year-Olds
Cheers,
Stia, Jean and Katherine